LAK12
I've been mulling over this next post for far too long, and the results will be brief and rushed (such bad food, and such small portions!). You have been warned. The three strands, or claims I'm engaging with (EDIT: I've tried to make things clearer and more parallel in the list below): 1. The computer is "just a tool." This part's in partial response to the comments on my previous post.
Gardner Writes | Aut Inveniam, Aut Faciam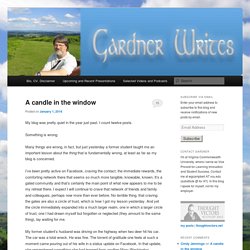 This handbook discusses the legal, social and technical aspects of open data. It can be used by anyone but is especially designed for those seeking to open up data. It discusses the why, what and how of open data – why to go open, what open is, and the how to 'open' data. To get started, you may wish to look at the Introduction.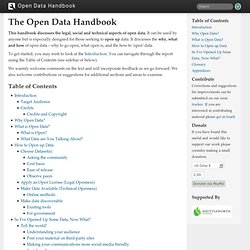 The Open Data Handbook — Open Data Handbook
NEWS - Online seminar "Revisiting the Community of Inquiry Model" on BCcampus's SCoPE July 10 - July 22, 2012 Since its original publication, Garrison, Anderson and Archer's (2000) "Critical Inquiry in A Text-based Environment: Computer Conferencing in Higher Education" has inspired a great many researchers and advanced our understanding of online learning and online education. In recent years, a number of reviews of the Community of Inquriy framework (CoI) have been published, including, Garrison and Arbaugh's (2007), Swan and Ice (2010). Cindy Xin, author of a recently-published critique (Xin, 2012) will be with us to explain her argument and, together with Sarah Haavind, facilitate a discussion reconsidering the CoI and its recent reviews and critiques. By provoking new thoughts and possibly constructing new theories and methods, we hope to further our understanding of online discussion in particular, and online education in general.
Welcome | Community of Inquiry
linkededucation.org
(1) Educause_2012
DeyaniraS
Feeds ~ Learning Analytics
You are not logged in. [] [] The following is a list of the feeds harvested as part of the PLENK2010 course. This list may also be obtained as an OPML File.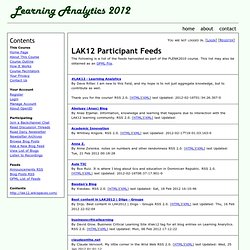 deyaniras's Space - Home
Search
lak12 - home
Proceedings of the 1st International Conference on Learning Analytics and Knowledge
We are pleased to present the proceedings of the First International Conference on Learning Analytics and Knowledge (LAK 2011). The conference took place in Banff, Alberta, Canada in the period February 27 - March 1, 2011. The idea for establishing a special dedicated forum to researching learning analytics was motivated by several important indicators: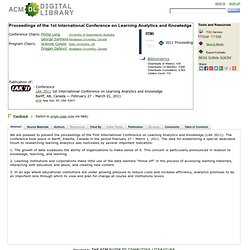 OpenU-KMi Research for Schools