News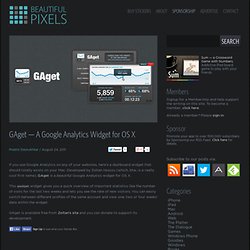 GAget — A Google Analytics Widget for OS X
If you use Google Analytics on any of your websites, here's a dashboard widget that should totally exists on your Mac.
Winamp Wants To Be The iTunes Of Android; Now Out Of Beta With Wireless Sync
Today Winamp for Android is coming out of beta, a month after its initial launch and more than 500,000 downloads later. The public Android release lets you manage your music downloads on your Android and will offer a couple new features, including wireless syncing over WiFi with Winamp on your desktop computer and the addition of Shoutcast radio stations. (Both Winamp and Shoutcast are owned by AOL, as is TechCrunch).