Movies
The Movie Cliches List, part 1. Piston-engine airplanes in the movies are unusually subject to engine failure.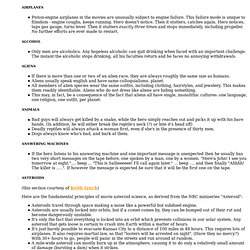 This failure mode is unique to filmdom - engine coughs, keeps running. Hero doesn't notice. Then it stutters, catches again. Full Movies. A Collection of the 25 Greatest Unscripted Scenes in Movies. By Ethan Anderton August 15, 2011Source: YouTube While much of the greatness of any given film begins with the words on the pages of a screenplay, there are still plenty of amazing moments in cinema that come from actors' improvisation.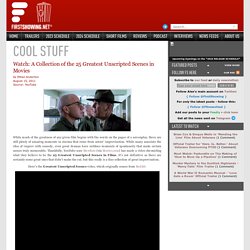 While many associate the idea of improv with comedy, even great dramas have sublime moments of spontaneity that make certain scenes truly memorable. Watch movies online for free movie download at movie2k.to. Wir wissen auch nicht, was mit Movie2k passiert ist.
Uns gehört die Domain nicht, es wurde von den Betreibern nur auf uns umgeleitet. (Wieso du hier unsere Seite siehst, steht hier.) Wir wissen aber, dass in der Politik vieles schief läuft. Im Urheberrecht, und anderswo. Watch Captain America: The First Avenger (2011) Free Online. 2011 Comic-Con Cosplay Winner: Lady Two-Face. Out of all the cosplay costumes at this year's San Deigo Comic-Con, this one easily takes the cake.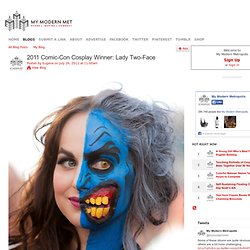 The makeup on Lady Two-Face is flawless and the transformation between both sides of her face is shockingly awesome. Edit: Thanks to Reddit user sweetloris, we found out who Lady Two-Face really is! Her name is Meagan Marie and according to her website, she works at Crystal Dynamics by day, reads comics at night, and runs around in costumes on the weekend. Hollywood Entertainment Breaking News - Nikki Finke on Deadline.com/hollywood. FirstShowing.net. You Missed It: Most Unfairly Overlooked Movies Of The Decade. When people look back on the early years of the new millennium they'll remember it for movies like The Dark Knight and Lord of the Rings.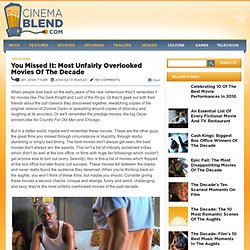 Or they'll geek out with their friends about the cult classics they discovered together, rewatching copies of the original version of Donnie Darko or spreading around copies of Idiocracy and laughing at its accuracy. Or we'll remember the prestige movies, the big Oscar winners like No Country For Old Men and Chicago. But in a better world, maybe we'd remember these movies.
Top Ten - Top 10 Hidden Treasures: The Best Movies You Never Saw - Top 10 - Lords of Flatbush - Fandango - Electra Glide in Blue - Burn! - Corndog Man. Top 10 Hidden Treasures: The Best Movies You Never Saw Sylvester Stallone's big break came in 1974 when he starred with Henry Winkler as gang member Stanley Rosiello in this underappreciated little cult movie.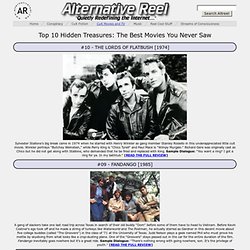 Winkler portrays "Butchey Weinstein," while Perry King is "Chico Tyrell" and Paul Mace is "Wimpy Murgalo. " Richard Gere was originally cast as Chico but he did not get along with Stallone, who demanded that he be fired and replaced with King. Sample Dialogue: "You want a ring?
I got a ring for ya. HeyUGuys - UK Movie / Film Blog. Movie News, Movie Reviews, Movie Features, Movie Trailers, Movie Rants, Movie Competitions & Movie Chat - TheShiznit.co.uk. Top Movies - Top Movies, Upcoming Movies and Movie Posters… Shorts. The Internet Movie Database (IMDb) Row Three. A decade into the 21st Century and we have arrived at the future.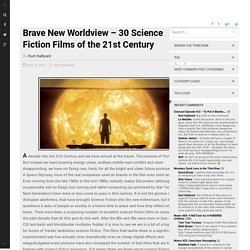 The promise of Tomorrow. But instead we have looming energy crises, endless middle east conflict and more disappointing, we have no flying cars, Heck, for all the bright and clean future promised in 2001: A Space Odyssey, none of the real companies used as brands in the film even exist anymore. Even moving from the late 1960s to the mid 1980s, nobody makes DeLoreans (although they occasionally sell on Ebay), but cloning and tablet computing (as promised by Star Trek: The Next Generation) have more or less come to pass in this century. It is not the gizmos or the distopian aesthetics, that have brought Science Fiction into the new millennium, but the questions it asks of people or society in a future time or place and how they reflect on our own times. ROTTEN TOMATOES. Empire Magazine. The Hollywood Reporter. With the release of X-Men: Days of Future Past just over a month away, three more videos promoting the movie have appeared online to give some more information on what happens in the movie, and how high the stakes are for mutantkind.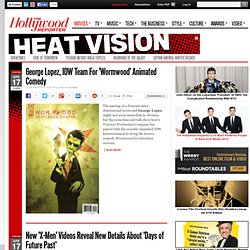 The three videos, part of a cross-promotional campaign called "Take Control of Your Future" with Norton by Symantec, feature Hugh Jackman, Ellen Page and other actors from the movie explaining what happens to set up Days of Future Past. Crave Online. After nearly a decade removed from his last solo series, Static is finally coming back with a comic of his own.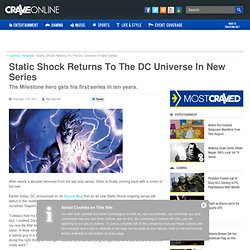 Earlier today, DC announced on its Source Blog that an all new Static Shock ongoing series will debut in the middle of this year with writer Felicia Henderson along with artists Scott McDaniel and Jonathan Glapion. "I always had my fingers crossed about Static getting his own book, again," said Henderson. "In fact, I stalked Dan DiDio about the idea. I'm also a big Dwayne McDuffie fan, and if I could choose my real life little brother, he'd be Static! ShockTillYouDrop.com. ComingSoon.net. Superhero Hype! ECCENTRIC CINEMA | Cult Movies, Movie Reviews, Downloads.
4D MAN. Image's edition of 4D Man is one of the company's earlier releases ('99), so the DVD unfortunately comes in the cardboard "snapper"-type packaging.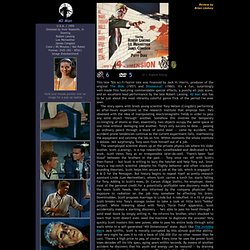 It's also completely bereft of Extras — there isn't even a trailer. On the plus side, audio/visual quality is quite good considering the film's age and low budget heritage.
---