Finances
Become a Millionaire in 58,398 Easy Steps! (Infographic) 7 Rules of Wealth Building - Practical Steps to Amassing Capital. Most parents want to teach their children responsibility - how to become self sufficient and succeed in life (after all, no one plans on raising a dead beat).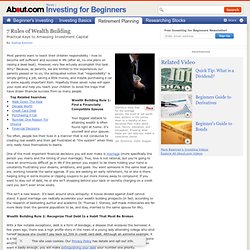 However, very few actually accomplish this task. Why? 7 Financial Tips I Picked up From the Wealthy. Have you ever heard of the book, "The Millionaire Next Door?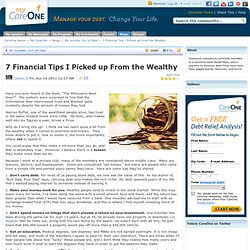 " The authors were surprised to find that the millionaires they interviewed lived and dressed quite modestly despite the amount of money they had. Warren Buffet, one of the wealthiest people alive, has lived in the same modest home since 1958. My boss, who makes well into six figures a year, drives a Prius. Why do I bring this up? I think we can learn quite a bit from the wealthy when it comes to priorities and money. Find the Power in Tracking Your Expenses. One of the reasons budgets fail is because a crucial first (and ongoing) step is missed in the budgeting process: tracking your expenses.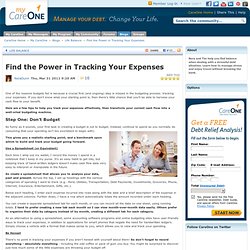 If you don't know what your starting point is, then there's little chance that you'll be able to harness your cash flow to your benefit. Here are a few tips to help you track your expenses effectively, then transform your current cash flow into a well-oiled budgeting machine. 7 Money Tricks Rich Guys Know : MensHealth.com. My dad taught me how to rig a mainsail, my college buddies taught me how to hold my Jim Beam, and my teachers taught me how to parse Chaucer.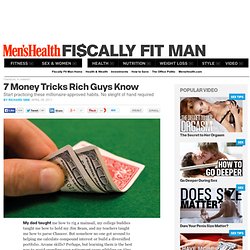 But somehow no one got around to helping me calculate compound interest or build a diversified portfolio. How to Make Trillions of Dollars | Raptitude.com. Before I get into it, I must say that I don't recommend that you do this.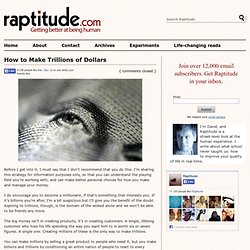 I'm sharing this strategy for information purposes only, so that you can understand the playing field you're working with, and can make better personal choices for how you make and manage your money. I do encourage you to become a millionaire, if that's something that interests you. If it's billions you're after, I'm a bit suspicious but I'll give you the benefit of the doubt. 190 Resources For Saving Money. In the more than two years since we published our first article, we've found quite a few resources that can save you money and headaches.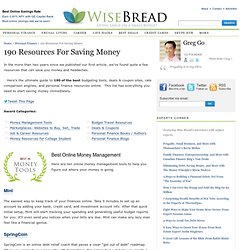 Here's the ultimate guide to 190 of the best budgeting tools, deals & coupon sites, rate comparison engines, and personal finance resources online. This list has everything you need to start saving money immediately. Tweet This Page Award Categories: Best Online Money Management. Compare Banks, Interest Rates, CD Rates, Checking Accounts - Find Local Bank Ratings & Reviews | Where2Bank.com. Conquer Your Debt — Debt relief solutions so you can live debt free. Adwords Management & Search Engine Marketing Agency — Leverage Marketing.
Garage Technology Ventures :: Seed Stage and Early Stage Venture Capital. Free Credit Score Monitoring, Debt Management & Personal Finance Tool. Simply put, we deliver recommendations that are best for your bottom line.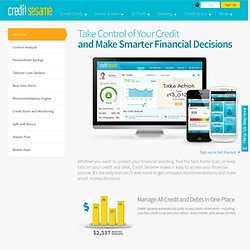 Our advice is based on your credit profile, financial goals and market monitoring – not payments from advertisers. Credit Sesame's patent-pending analytics engine assesses your individual situation and identifies what you could be doing better today to meet your goals for tomorrow. We'll show you personalized, objective savings recommendations on home loans, credit cards, auto loans and more. Learn more. * Infographic: The True Cost of Homeownership. Everyone is talking about how now is a great time to buy a home.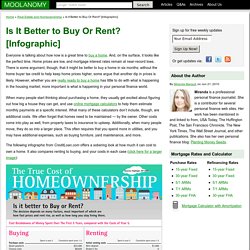 And, on the surface, it looks like the perfect time. Home prices are low, and mortgage interest rates remain at near-record lows. There is some argument, though, that it might be better to buy a home in six months; without the home buyer tax credit to help keep home prices higher, some argue that another dip in prices is likely. How we made $1 million for SEOmoz—with one landing page and a few emails. Since we first published this case study, SEOmoz has continued to grow and rebrand significantly (it's now called Moz).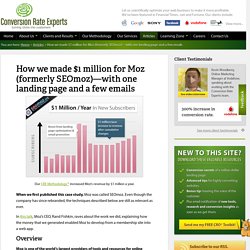 However, the techniques described below are still as relevant as ever. In this talk, SEOmoz's CEO, Rand Fishkin, raves about the work we did, explaining how the money that we generated enabled SEOmoz to develop from a membership site into a web app. ClearStation : Welcome to ClearStation!
---