Finances
Become a Millionaire in 58,398 Easy Steps! (Infographic)
7 Rules of Wealth Building - Practical Steps to Amassing Capital
Most parents want to teach their children responsibility - how to become self sufficient and succeed in life (after all, no one plans on raising a dead beat). However, very few actually accomplish this task. Why?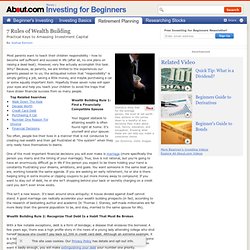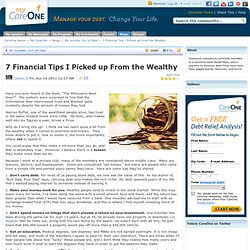 Have you ever heard of the book, "The Millionaire Next Door?" The authors were surprised to find that the millionaires they interviewed lived and dressed quite modestly despite the amount of money they had.
7 Financial Tips I Picked up From the Wealthy
Find the Power in Tracking Your Expenses
One of the reasons budgets fail is because a crucial first (and ongoing) step is missed in the budgeting process: tracking your expenses. If you don't know what your starting point is, then there's little chance that you'll be able to harness your cash flow to your benefit. Here are a few tips to help you track your expenses effectively, then transform your current cash flow into a well-oiled budgeting machine.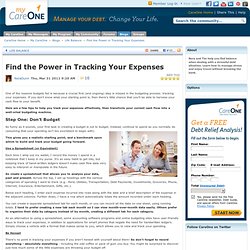 Before I get into it, I must say that I don't recommend that you do this.
How to Make Trillions of Dollars | Raptitude.com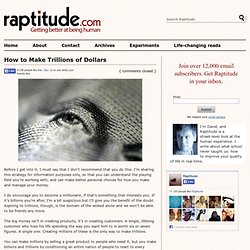 In the more than two years since we published our first article, we've found quite a few resources that can save you money and headaches. Here's the ultimate guide to 190 of the best budgeting tools, deals & coupon sites, rate comparison engines, and personal finance resources online.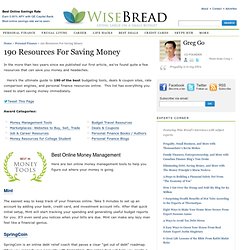 Compare Banks, Interest Rates, CD Rates, Checking Accounts - Find Local Bank Ratings & Reviews | Where2Bank.com
Conquer Your Debt — Debt relief solutions so you can live debt free
Adwords Management & Search Engine Marketing Agency — Leverage Marketing
Free Credit Score Monitoring, Debt Management & Personal Finance Tool | Credit Sesame
Simply put, we deliver recommendations that are best for your bottom line. Our advice is based on your credit profile, financial goals and market monitoring – not payments from advertisers. Credit Sesame's patent-pending analytics engine assesses your individual situation and identifies what you could be doing better today to meet your goals for tomorrow. We'll show you personalized, objective savings recommendations on home loans, credit cards, auto loans and more. Learn more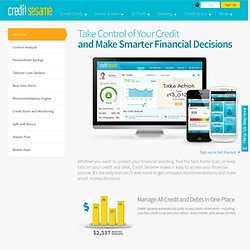 * Infographic: The True Cost of Homeownership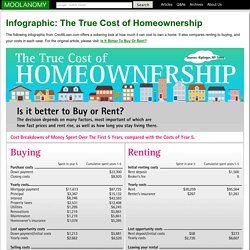 The following infographic from CreditLoan.com offers a sobering look at how much it can cost to own a home. It also compares renting to buying, and your costs in each case.
How we made $1 million for SEOmoz—with one landing page and a few emails
ClearStation : Welcome to ClearStation!