Android
ALL TECH BUZZ | YOUR ONE STOP TECHNOLOGY INFORMATION BLOG… Get File - 7428 Disk. PerfectHue - Design & Photography Portfolio of Jason Benjamin. Andropedia | Download Android Apps Free. Explore and Share Inspirational Home Screens - MyColorscreen, Where Technology Meets Art. View forum - Wallpapers/Themes. Flikie Wallpapers | Your visual inspiration. Droidpirate.com. #LauncherPro-Themes on deviantART. Android.AppStorm | Android App Reviews, Roundups & How-Tos. iDesign * iPhone | Your Number one source for Free iPhone Wallpapers / iPod Touch Wallpapers. Updated Daily!
ApkBin - Free Apk Download. Folder - Android top free pro Version apps... APKTOP. Must Know Tips & Tricks For The Galaxy S2 #SGS2. Home » Android, Featured, Handsets, Headline, Samsung [Update - For a Galaxy S3?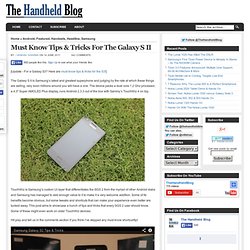 Here are must know tips & tricks for the S3!] The Galaxy S II is Samsung's latest and greatest superphone and judging by the rate at which these things are selling, very soon millions around you will have a one. 3 Ways to Install Applications On Android Without The Market. Android Hack – How to Install/Download Paid Android Apps for FREE! | Nexus One Hacks Blog. Warning: Downloading Paid Apps is probably illegal and we don't advise you to do this, this is for informational purposes ONLY!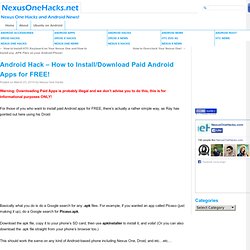 For those of you who want to install paid Android apps for FREE, there's actually a rather simple way, as Ray has pointed out here using his Droid: Basically what you do is do a Google search for any .apk files.
---