MFA
http://grad.berkeley.edu/admissions/state_purpose.shtml
Statement of Purpose, Graphic Design MFA
Statement of Purpose - Design In the design industry in [my country], the designers seldom have direct contact with clients, as they tend to be focused exclusively on the content of their work. Instead, a salesperson communicates with clients and then relays the pertinent information and requirements on to the designer. The end result of such a system is that designers produce work in relative isolation of the actual needs of clients; the work, while of high quality, suffers from the obstacles presented by the lack of communication between designer and client. I have noticed such challenges in my own work, where the effectiveness of my designs is often hindered by a lack of direct communication with clients, which can result in differences between the clients' expectations and the actual finished product.
Sample Statement of Purpose - Design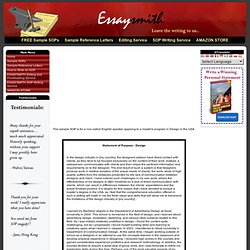 Locations
Atlanta hums with creative and entrepreneurial energy, and that's why SCAD students love this 21st-century city, where Fortune 500 companies, nonprofit organizations, design firms and fine art galleries await students at every turn.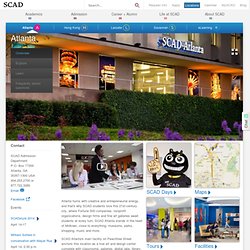 Graduate Catalog :: Art
RICHARD A. LOU, MFAChairRoom 200, Art & Communication Bldg(901) 678-2217 MIKE SCHMIDT, MFACoordinator of Graduate Studies(901) 678-1777E-mail: mschmidt@memphis.edu EARNESTINE JENKINS, PhDGraduate Advisor in Art History901-678-3450E-mail: eljenkns@memphis.edu http://memphis.edu/art