Regulation
Bratton Report Revealed, Lists Oakland Police Problems. An Oakland Police patrol car sits in front of the Oakland Police headquarters.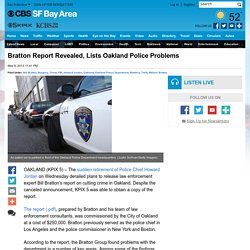 (Justin Sullivan/Getty Images) OAKLAND (KPIX 5) – The sudden retirement of Police Chief Howard Jordan on Wednesday derailed plans to release law enforcement expert Bill Bratton's report on cutting crime in Oakland. Despite the canceled announcement, KPIX 5 was able to obtain a copy of the report. Police-Involved Shootings In Oakland: Ex-Officers Often Investigate Incidents.
This article comes to us courtesy of California Watch .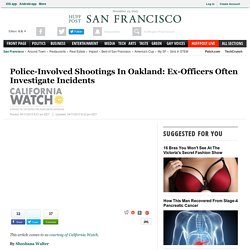 By Shoshana Walter After Oakland police Officer Miguel Masso shot and killed 18-year-old Alan Blueford last May, prosecutors quickly released their investigator's findings about the incident, amid a public outcry and a protest that shut down a City Council meeting. The shooting was justified, according to the evidence collected by Michael Foster – a former Oakland police officer. In a city seething with distrust of law enforcement, legal experts and residents are now questioning District Attorney Nancy O'Malley's wisdom in assigning former Oakland police officers to the task.
City Attorney Seeks Payday-Loan Claimants with Intern's 'Pay Me Maybe' Video. Consumer Law Posted Sep 19, 2012 5:30 AM CDT By Debra Cassens Weiss An Oct. 1 deadline is looming for some California consumers to file claims under a statewide settlement with two payday loan companies.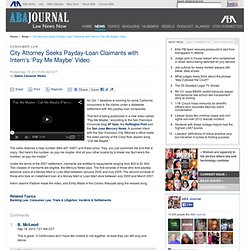 Eight reasons to 'mute' super PAC ads - You are not alone if you dislike super PACs. Torching California's Broadband Future: Why Your State Is Next | Wired Business. California Governor Jerry Brown recently declared a state of emergency in three northern California counties ravaged by wildfires.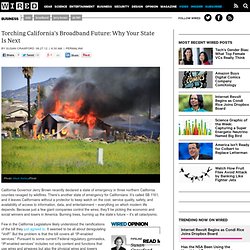 There's another state of emergency for Californians: It's called SB 1161, and it leaves Californians without a protector to keep watch on the cost, service quality, safety, and availability of access to information, data, and entertainment – everything on which modern life depends. Because just a few giant companies control the wires, they'll be picking the economic and social winners and losers in America. Burning trees, burning up the state's future – it's all cataclysmic. Few in the California Legislature likely understood the ramifications of the bill they just agreed to. City Support of Urban Agriculture Stops Short of Potential to Decrease Rising Food Insecurity | CUEL: Center on Urban Environmental Law at Golden Gate University School of Law.
By Luthien Niland, 3rd Year Law Student As city departments struggle to determine how to feed the tens of thousands of food insecure San Francisco residents, an amendment to the Planning Code passed under the radar of most San Francisco residents that could provide some solutions to this problem.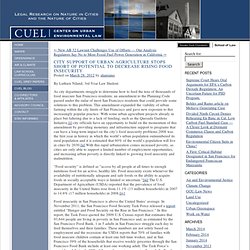 This amendment expanded the viability of urban farming within the city limits of San Francisco and gave new exposure to this increasingly popular practice. With some urban agriculture projects already in place but faltering due to a lack of funding, such as the Quesada Gardens Initiative,[i] city officials have an opportunity to build on the momentum of this amendment by providing monetary and infrastructure support to programs that can have a long-term impact on the city's food insecurity problems.2008 was the first year in history in which the world's urban population outnumbered its rural population and it is estimated that 60% of the world's population will live in cities by 2030. Brown Appoints New Chief Pesticide Regulator. Tracey Brieger, Californians for Pesticide Reform tracey@pesticidereform.org, Cell: 415-215-5473 Paul Towers, Pesticide Action Network ptowers@panna.org, Cell: 916-216-1082 February 2, 2012 Brown Appoints New Chief Pesticide Regulator Coalition urges new leadership to follow science, ban methyl iodide and support safe and sustainable alternatives to pesticides SACRAMENTO, CA—Today, Brian Leahy, a former farmer and staffer to the California Department of Conservation, was appointed Director of the California Department of Pesticide Regulation (DPR), a move that ends an eleven-month vacancy for the State's chief pesticide regulator.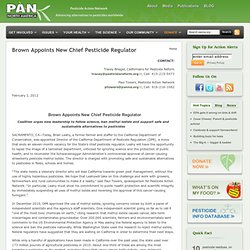 Natural History of the Kitchen: The Microwave. Natural History of the Kitchen: The Microwave April 20, 2010, 9:59 am 7 Comments An early commercial microwave oven.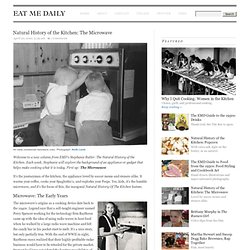 Photograph: Keith Lamb Welcome to a new column from EMD's Stephanie Butler: The Natural History of the Kitchen. The Truth About Cancer-Causing Cosmetics. While consumers are well past the dangerous complacence of the stereotypical 1950s television owner, we still buy into the deceptive ploys that large companies use today.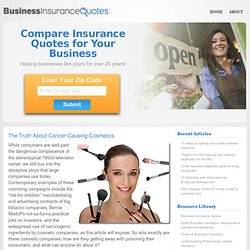 Contemporary examples of these conniving campaigns include the "not-for-children" merchandising and advertising contracts of big tobacco companies, Bernie Madoff's not-so-funny practical joke on investors, and the widespread use of carcinogenic ingredients by cosmetic companies, as this article will expose. So who exactly are these cosmetic companies, how are they getting away with poisoning their consumers, and what can anyone do about it? Major cosmetic companies like Bobbi Brown, Estée Lauder, Bumble and Bumble, Sephora, Revlon, and dozens of others have launched breast cancer donation campaigns and fundraisers over the past decade. Reseller packages & pricing. Livedrive is the power behind cloud storage offerings from brands like Currys, Systemax and CompUSA.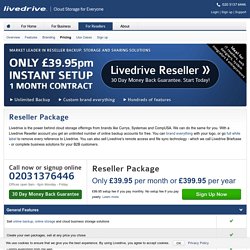 We can do the same for you. With a Livedrive Reseller account you get an unlimited number of online backup accounts for free. You can brand everything with your logo, or go full white label to remove every reference to Livedrive. You can also sell Livedrive's remote access and file sync technology - which we call Livedrive Briefcase - or complete business solutions for your B2B customers. Call now or signup online.
---