Deuxciel
Christopher Land
14.56 16.18 00.25
CLaNZeR Playing with magnets - The Pyramid. Welcome to Overunity.org.uk The Pyramid Decided to Mill out a Pyramid to the same angle as the real Pyramids and have a play.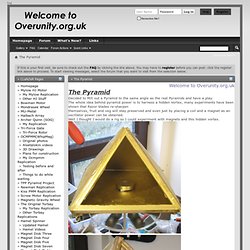 The whole idea behind pyramid power is to harness a hidden Vortex, many experiments have been shown that Razor blades re-sharpen themselves, fruit and veg will stay preserved and even just by placing a coil and a magnet as an oscillator power can be obtained. Well I thought I would do a rig so I could experiment with magnets and this hidden vortex. Policy-Law.
Science. Sacred Science. Financial. Technology. Learn2Teach. Human Behavior. Never Brow+minated-ser. Haiti's 1 Percent. Is there a story about Haiti that doesn't mention the Caribbean nation's dubious honor of being "the poorest country in the Western Hemisphere"?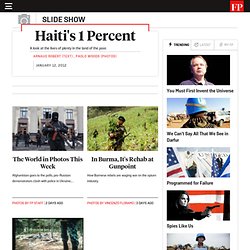 Few have ever heard about Haiti's wealthy elite, most of whom came to the island from France, Lebanon, Syria, Germany, or Jamaica at the beginning of the last century -- families that chose to invest in a country where nothing seems to endure. Despite, but sometimes thanks to, the absence of a functioning government, rich Haitians have prospered mainly in the import-export business. One percent of Haitians control 50 percent of the country's economy, and its top 500 taxpayers generate 80 percent of its tax revenues. But wealth doesn't buy love. It's Not Just Obama. If 2011 was the year when governments were overthrown in the streets, 2012 could be the year when politics plays out at the ballot box. A third of the world's nations will be holding local, state, or national elections; a number of Arab Spring countries will be putting their democratic aspirations into action; and four out of the five permanent members of the U.N. Security Council -- the United States, Russia, China and France -- may retreat from the world stage as they undergo leadership transitions, with major implications for international affairs.
Let's take a look at the races that will make headlines in the year to come. Type: Presidential, legislative. Physical Health.
GBPPR Tech Bulletin #2 - Advantages of Circular Polarized FM Repeater Antennas. Antenna polarization theory is a concept amateur radio operators fail to recognize.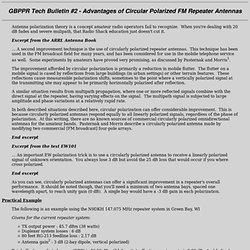 When you're dealing with 20 dB fades and severe mulipath, that Radio Shack education just doesn't cut it. Excerpt from the ARRL Antenna Book ... A second improvement technique is the use of circularly polarized repeater antennas. This technique has been used in the FM broadcast field for many years, and has been considered for use in the mobile telephone service as well. Some experiments by amateurs have proved very promising, as discussed by Pasternak and Morris1. Tesla's Little Secret. Micro Wind Turbine Project. CIC Start Online Conference 2011 - Edinburgh Napier University. Electric Power & Transmission & Distribution - Powersave 1200 - Carnky108,What you are referring to is what is called a Nola Power Factor Controller, invented by a NASA engineer named Frank Nola in 1969.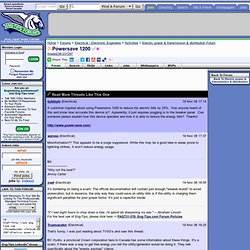 Different animal, albeit also marketed in some pretty slimy ways lately. PFC controllers came out in the 70s and have resurfaced because the internet has opened up a who new access point for scammers, but it does have a modicum of truth behind it. It does save a small amout of energy on unloaded 1 phase motors, but of course if it is running unloaded, why is it even running at all?
FREE ENERGY # 35 BI-TOROID TRANSFORMER - 377 % OVER UNITY MOTIONLESS. Self Assisted Oscillation in a Shorted Coil - Bucking Magnetic Field Oscillation. Physicist Steven E Jones overunity circuit. Meru Networks | Resources/Deep Dive. MeeGo? It could actually make it. In my last post, where I was commenting about Microsoft and their sequence of failures on mobile, I wrote: if you want other companies to manufacture devices with your OS (the Windows mobile vs. the Apple model) today you need:to charge zero dollars for your OSto make your OS open source and allow your ODMs some freedom to differentiateto have a cool OS Someone in the comments asked me: "what about MeeGo?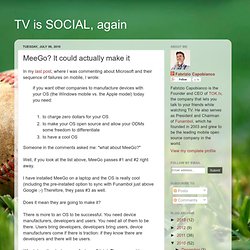 " Well, if you look at the list above, MeeGo passes #1 and #2 right away. I have installed MeeGo on a laptop and the OS is really cool (including the pre-installed option to sync with Funambol just above Google ;-) Therefore, they pass #3 as well. Does it mean they are going to make it? The open cloud just got a bit more closed. Something interesting happened today in the open cloud world: Google shot at Facebook...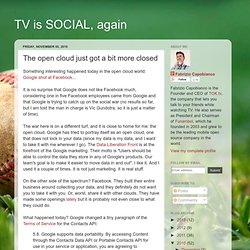 It is no surprise that Google does not like Facebook much, considering one in five Facebook employees came from Google and that Google is trying to catch up on the social war (no results so far, but I am told the man in charge is Vic Gundotra, so it is just a matter of time). The war here is on a different turf, and it is close to home for me: the open cloud. Google has tried to portray itself as an open cloud, one that does not lock in your data (since my data is my data, and I want to take it with me wherever I go). The Data Liberation Front is at the forefront of the Google marketing. Their motto is "Users should be able to control the data they store in any of Google's products. Tether your iPad, do not bother buying the 3G version. I have used an iPad for a while now.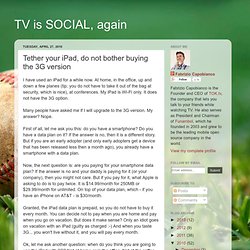 At home, in the office, up and down a few planes (tip: you do not have to take it out of the bag at security, which is nice), at conferences. My iPad is Wi-Fi only. It does not have the 3G option. Overage charges will kill the mobile revolution. I have been in mobile long enough to have witnessed every attempt by the mobile operators to milk data revenues.
SMS being the holy grail they always wanted to replicate (can't be done, some things are too good to be true...). It started with outrageous pricing, which did not make any sense. It kept out anyone but large enterprises, mostly using BlackBerry. Finally, the prices were relaxed, consumers could afford them, the smartphone era began and the mobile revolution started. We owe a lot to Apple, as usual. It is time to kill the file system. I am sure you have watched the video preview of Windows 8.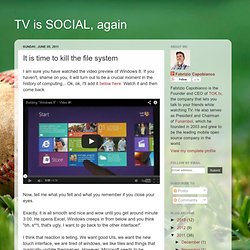 If you haven't, shame on you, it will turn out to be a crucial moment in the history of computing... Ok, ok, I'll add it below here. Watch it and then come back. Now, tell me what you felt and what you remember if you close your eyes. A business model for open source (hint: it's the cloud!) Yesterday I found on YouTube the keynote I gave at the Open World Forum in Paris last September. I talk about what I consider THE business model for open source projects: a separation of a free community edition for deployment (for people that have time but no money) and a commercial edition in the cloud (for people that have money but no time). Obviously, the example I am using is Funambol... but I think it can be a model working for a lot more projects.
HTTPS Everywhere. HTTPS Everywhere is produced as a collaboration between The Tor Project and the Electronic Frontier Foundation. Many sites on the web offer some limited support for encryption over HTTPS, but make it difficult to use. For instance, they may default to unencrypted HTTP, or fill encrypted pages with links that go back to the unencrypted site. Apparmor privoxy profile. This blog is an extension of a discussion we had at our LUG regarding security.
We are reviewing both apparmor and selinux and started with apparmor. One advantage of apparmor is that it is relatively easy to learn, but a potential downside is that as an end user you will need to learn to generate and maintain profiles. Natural Docs. Technology / RSS platform / Newsbrain | Feedreader.com. White Paper - Feedreader Platform - Technical background of Newsbrain and applications using Newsbrain. At Feedreader, years of experience in the RSS news field, as well as in-depth knowledge of new and emerging technologies, have helped us to design innovative components that form the building blocks for all of our solutions.
These robust components – known as Newsbrain – have enabled us to produce solutions of unparalleled power and quality for our clients. We can also use these Newsbrain components to make continuous enhancements to our current Feedreader offerings, and rapidly introduce new solutions to meet the changing needs and requirements of our customers and the marketplace. Musique, music player for Mac, Windows and Linux. Musique unclutters your music listening experience with a clean and innovative interface. Read more Look them in the face.
Browse your collection by artists pictures and album covers. Modern Living / Neurotica series - Flock. Magnesium Chloride. Magnesium Chloride | Ancient Minerals. Help.
Pearltrees videos
Cool stuff.
---