Cloud communications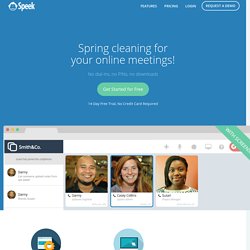 Register Choose a personalized Speek link (i.e., speek.com/YourName) for your conference calls. Remember, it's free!
Free Conference Calls - Speek
Plivo
Talkdesk
Voice Build conference call, click to call, and other voice solutions on our cloud platform. Hoiio helps you connect to any phones globally, with just a few lines of code. SMS SMS to over 200 countries reliably, quickly and at wholesale pricing. We also support delivery notifications and changing of SMS sender name. IVR Build voice application that interacts with your users over a phone call. With just a few lines of code, you can now do stuff you never think you could - IVR system, automated voice broadcast, voicemail, etc.
Holio