Full Time Life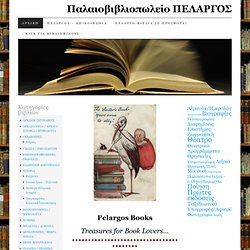 Παλαιοβιβλιοπωλείο ΠΕΛΑΡΓΟΣ | Rare books – Used books – Prints
Pelargos Books Treasures for Book Lovers… Ξεφυλλίστε τον ετήσιο Κατάλογο Βιβλίων του "Πελαργού": Τα βιβλία της παρακάτω συλλογής, θα τα βρείτε στις θεματικές κατηγορίες τους ή χρησιμποιώντας την "Αναζήτηση" στο αριστερό μέρος της σελίδας.
Imagine a circle that contains all of human knowledge: By the time you finish elementary school, you know a little: By the time you finish high school, you know a bit more: With a bachelor's degree, you gain a specialty: A master's degree deepens that specialty: Reading research papers takes you to the edge of human knowledge: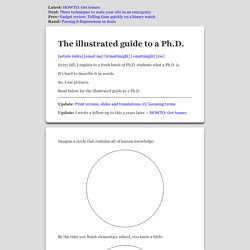 Posted by C on Monday, October 17, 2011 · I found these funny illustrations in the net yesterday. The article was actually entitled, "Nerdy Dirty Illustrations for Nerds In Love." But I believe that these do not only apply to the nerds because when you are trapped in the four letters of L-O-V-E, you'd be weirder than you've ever been. Check the other illustrations as you scroll down below.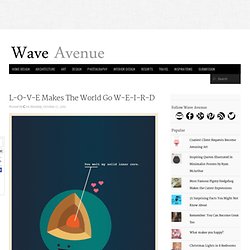 Contests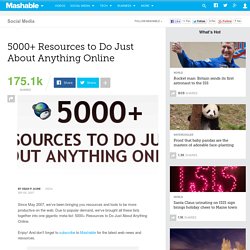 Since May 2007, we've been bringing you resources and tools to be more productive on the web. Due to popular demand, we've brought all these lists together into one gigantic meta-list: 5000+ Resources to Do Just About Anything Online. Enjoy! And don't forget to subscribe to Mashable for the latest web news and resources.
σκεπτικισμός
Σκεπτικισμός: Φιλοσοφική τάση, έκφραση της αμφιβολίας για τη δυνατότητα προσέγγισης της αντικειμενικής αλήθειας... ... κατ' άλλους είναι ένα φιλοσοφικό σύστημα που αρνείται τη δυνατότητα της γνώσης γενικά ισχυουσών αληθειών, το αντίθετο του δογματισμού... ... η φιλοσοφική αυτή διδασκαλία θεμελιώθηκε στην αρχαία Ελλάδα από τον Πύρρωνα (περίπου 360 - 270 π.Χ.)... ... από τον Πλάτωνα τον 4ο αιώνα π.Χ μέχρι σήμερα ο άνθρωπος ερευνά, αμφισβητεί, χρησιμοποιεί τη λογική για να καταλήξει σε αληθοφανή συμπεράσματα.Η πλατωνική φιλοσοφία εισήγε τη θεωρία των ιδεών, οι οποίες είναι οι γενικοί και αιώνιοι τύποι των πραγμάτων, οι ουσίες που γίνονται αντιληπτές μόνο με το λογικό και όχι με την αίσθηση. Ο Πλάτωνας αναγνωρίζει δύο κόσμους: τον αισθητό, ο οποίος διαρκώς μεταβάλλεται και το νοητό δηλαδή τις ιδέες που υπάρχουν σε τόπο επουράνιο...
General Guidelines in Answering Interview Questions #01 Tell me about yourself. #02 What are your greatest strengths? #03 What are your greatest weaknesses? #04 Tell me about something you did – or failed to do – that you now feel a little ashamed of.