Named entity recognition
Named-entity recognition. Named-entity recognition (NER) (also known as entity identification, entity chunking and entity extraction) is a subtask of information extraction that seeks to locate and classify elements in text into pre-defined categories such as the names of persons, organizations, locations, expressions of times, quantities, monetary values, percentages, etc.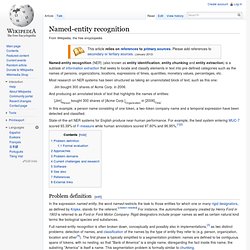 Most research on NER systems has been structured as taking an unannotated block of text, such as this one: Jim bought 300 shares of Acme Corp. in 2006. And producing an annotated block of text that highlights the names of entities: [Jim]Person bought 300 shares of [Acme Corp.]Organization in [2006]Time. In this example, a person name consisting of one token, a two-token company name and a temporal expression have been detected and classified. Calais Viewer. Mafait.org - project Thinknowlogy - Fundamentally designed Artificial Intelligence. LingPipe Home. How Can We Help You?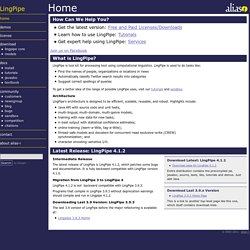 Get the latest version: Free and Paid Licenses/DownloadsLearn how to use LingPipe: Tutorials Get expert help using LingPipe: Services Join us on Facebook What is LingPipe? LingPipe is tool kit for processing text using computational linguistics. LingPipe is used to do tasks like: Text mining. AutoMap: Project. Overview | People | Sponsors | Publications | Hardware Requirements | Software | Training & Sample Data AutoMap is a text mining tool developed by CASOS at Carnegie Mellon.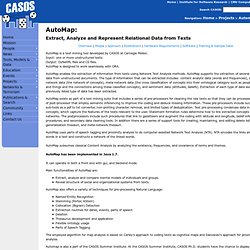 Input: one or more unstructured texts. Output: DyNetML files and CS files.
---