Contemporary art
Polly Morgan
ARTISTES - ART Contemporain
Beirut, Cairo 'Writing with the other hand is imagining' With works by Luis Camnitzer, Dina Danish, Redmond Entwistle, Malak Helmy, Adelita Husni-Bey, Mladen Stilinović, Katarina Zdjelar. Curated by Sarah Rifky, Jens Maier-Rothe, Antonia Alampi. September 15 – October 27, 2013.
Katarina Zdjelar
playtime - Nina Beier & Marie Lund : The history of visionaries
Du lundi 8 au dimanche 28 à différents momentsPerformance, Courtesy les artistes, Laura Bartlett et Croy Nielsen Courtoisie des artistes Un jeune marxiste récemment convaincu est payé un salaire pour être présent à différents moments et discuter ses convictions avec ceux qui l'approchent.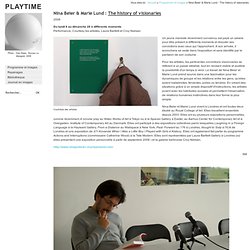 Galerie Georges-Philippe & Nathalie Vallois - Virginie YASSEF
Seth Price
"Since" 2002 Links http://sethpriceimages.com/tagged/folklore US http://sethpriceimages.com/tagged/garment sculptures http://sethpriceimages.com/tagged/plywood pieces
ELI CORTIÑAS - Galerie Michael Wiesehöfer
Karla Black
Born in 1972, Alexandria, Scotland Lives and works in Glasgow 2002-2004Masters Degree in Fine Art, Glasgow School of Art 1999-2000Master of Philosophy (Art in Organisational Contexts), Glasgow School of Art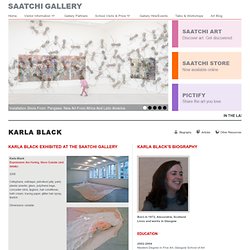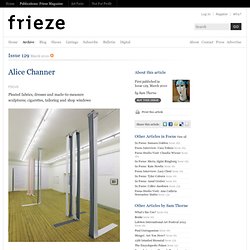 Alice Channer
Alice Channer Focus Pleated fabrics, dresses and made-to-measure sculptures; cigarettes, tailoring and shop windows The most influential example of the pleat in mid-20th-century couture was undoubtedly Christian Dior's silk 'Bar' suit. Launched in 1947 as part of the designer's début collection – promptly dubbed the 'New Look' by Harper's Bazaar editor Carmel Snow – it marked a shift from postwar austerity to opulent femininity. In 2007, Alice Channer titled her series of room-height works 'New Look': elegant and poised, a length of pleated fabric – about a hand-span wide – curves down from the ceiling and trails neatly along the floor.
Charlie Jeffery under construction
ateliers des arques residence artistes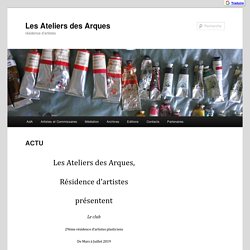 Actuellement aux ateliers des Arques : Copyright : Thomas Merret, Les ateliers des Arques, 2013. Exposition « L'image dans le tapis », avec Julien Bismuth, Natalie Czech, Thomas Merret, Charlotte Moth, Pierre Paulin
index neu
Isa Genzken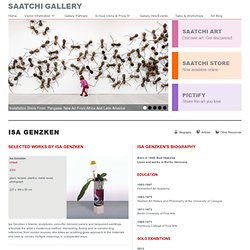 Born in 1948, Bad Oldesloe Lives and works in Berlin, Germany 1993-1997 Düsseldorf Art Academy 1993-1975 Studied Art History and Philosophy at the University of Cologne 1971-1973 Berlin University of Fine Arts
Matthew Day Jackson
Born in 1974, Panorama City Lives and works in Brooklyn 2012In Search Of..., Gemeente Museum Den Haag, The Hague 2011Heel Gezellig, GRIMM Gallery, Amsterdam Everything Leads to Another, Hauser and Wirth, London In Search Of..., MAMBO, Bologna, Italy In Seach Of....,Kunstmuseum Luzern, Switzerland 2010In Search Of..., Peter Blum Chelsea, New York The Tomb, Peter Blum Soho, New York 2009Gezellig, Galerie Emmanuel, Perrotin, Paris Dynamic Maximum Tension, GRIMM Gallery, Amsterdam The Immeasurable Distance, Contemporaray Arts Museum, Houston The Immeasurable Distance, Massachusettes Institute of Technology, Cambridge Hi, Low and In Between, Douglas Hyde Gallery, Dublin Matthew Day Jackson/Rashid Johnson, Nicole Klagsbrun Gallery for FIAC, Paris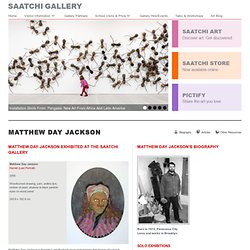 David Zwirner: Neo Rauch