Teaching Techniques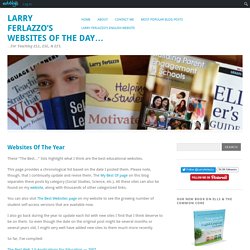 Websites Of The Year
These "The Best…" lists highlight what I think are the best educational websites. This page provides a chronological list based on the date I posted them. Please note, though, that I continually update and revise them. The My Best Of page on this blog separates these posts by category (Social Studies, Science, etc.). All these sites can also be found on my website , along with thousands of other categorized links.
Parenting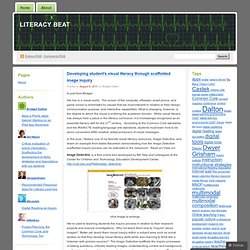 A post from Bridget We live in a visual world. The screen of the computer, eReader, smart phone, and game consul is dominated by visuals that we must interpret in relation to their design, communication purpose, and interactive capabilities. What is changing, however, is the degree to which the visual is entering the academic domain.
Developing student's visual literacy through scaffolded image inquiry « literacy beat
Audacity- Every Teacher Should Learn To Digital Audio Record (Part 1: Getting Started)
Image via Wikipedia Before I delve into the content of this post…I want to share this video created by students at Robin Hood primary school in Birmingham. This video sums up the purpose of this post…or actually this is going to be a blog series. 21st Century Teachers need to engage students and learn the technology. Please watch this…it's insightful. Every teacher should learn how to use basic digital audio recording software. I will share why I believe this is a skill that all teachers should learn, and I will share resources and tools to get you started.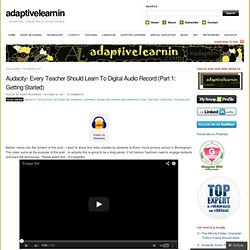 Good Use of QR Codes
Just about a year ago I predicted that 2011 would be the year of the QR Code . That we would see these little squares popping up everywhere especially in America as smartphone sells continue to climb. Looking back over the past year I've given quiet a few talks on QR Codes their power and scenarios for best us. When used propertly QR Codes can add value. When not used propertly they're just wasting space.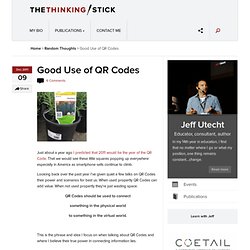 Meeting The Flatmates [download pdf] Meeting The Flatmates exposes students to regular podcast listening over a period of time. They follow The Flatmates online soap opera from the BBC for a month in the classroom, two episodes per week, total of eight episodes, and they are trained to download the episodes. This offers them a new learning activity that they can carry on after the class listening period is over, on their own mobile devices.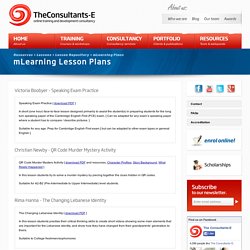 56 Interesting Ways to use the Interactive Whit... - "Google Docs"
We found a dead mouse. Did anybody get a picture? Narrator: Four times a year, the Glacial Ridge Wildlife Refuge becomes a living classroom for students from J.A. Hughes Elementary School in Red Lake Falls, Minnesota. Boy: Yeah, it's a burnt frog. Woman: Let me see.
Learning Landscape: Kids Monitor Terrain with Tech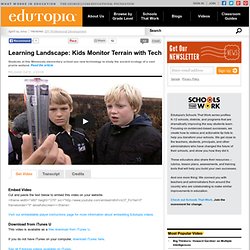 With so many good teachers out there, it's fortunate they can share their knowledge via video on the Internet. From the funny to the poignant, these glimpses into the lives of teachers and their students will keep you entertained while learning a little something as well. Whether you are a new teacher storing up tips and tricks or an experienced teacher who could just use a fresh perspective, you are sure to find something helpful among these videos.