Deryckball
deryckball
Univ. of Victoria - Education Elem. (Pre-service) : I embark on my Educational journey here with you, my PLN. I look forward to learning with you!
Textured Cities in Grade Two | Art Lessons For Kids. Get ready for an exciting lesson you can try with your students the next time you talk about texture.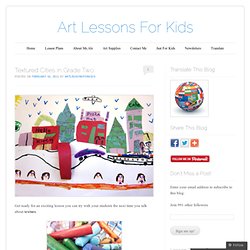 Give your students a piece of paper and tell them to choose two different colored crayons. Use old crayons that have no wrappers on them. After asking your students what the word 'texture' might mean, ask them how can we 'see' texture. Kids will come up with all sorts of ideas but you basically want them to say that you can see texture by rubbing it onto paper with pencils or crayons. Go outside for a texture hunt and remind kids to rub their crayons in a 'sleeping' position and encourage them to try two colors. Reflection and reflexivity: linking these skills to classroom practice. Educational Hash Tags and Live Channels. What's Wrong With the Teenage Mind? Open Thinking Wiki. A definition and framework for media literacy comes from Wikipedia.
"Media literacy is the process of accessing, analyzing, evaluating and creating messages in a wide variety of forms. It uses an inquiry-based instructional model that encourages people to ask questions about what they watch, see and read. Media literacy education is one means of developing media literacy. Making The Right Digital Decisions. Recently, my district began a huge initiative to combat bullying/cyberbullying and to help students become more aware of the choices they make both in their face-to-face lives and their digital decisions as well.
There is no one right way or right answer that will stop the problems. However, I do believe that the classroom and our schools are the places where tough conversations need to be had. I have been collecting several resources and I want to share. By no means is this all the stuff that is out there. The 12 most confusing things about Tweets, Retweets, Replies and Direct Messages. Want a short URL to remember to share this specific post with new folks?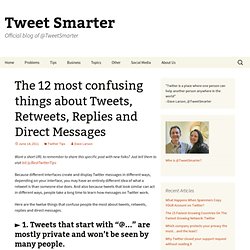 Just tell them to visit bit.ly/BestTwitterTips Because different interfaces create and display Twitter messages in different ways, depending on your interface, you may have an entirely different idea of what a retweet is than someone else does. And also because tweets that look similar can act in different ways, people take a long time to learn how messages on Twitter work. Here are the twelve things that confuse people the most about tweets, retweets, replies and direct messages. ► 1. Top 15 Twitter Acronyms. Most of the acronyms you'll find on Twitter are borrowed directly from decades of net culture, developed as easy Internet shorthand on electronic bulletin boards (BBSes), IRC, IM, and email.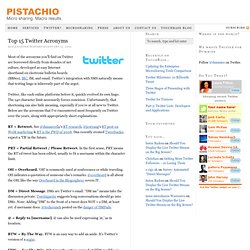 Twitter's integration with SMS naturally means that texting lingo is inherently part of the argot. Twitter, like each online platforms before it, quickly evolved its own lingo. The 140 character limit necessarily forces concision. Unfortunately, that shortening can also hide meaning, especially if you're at all new to Twitter. SAGE Advice for New Teachers - Global Learning. UserID: iCustID: IsLogged: false.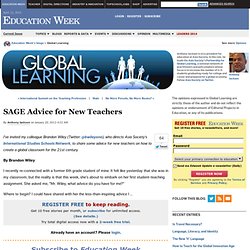 Teachers take to Twitter to improve craft and commiserate. "Twitter essentially prepared me to go into my second year and not give up," said Josephson, now in her third year at Woodrow Wilson High in Northwest Washington.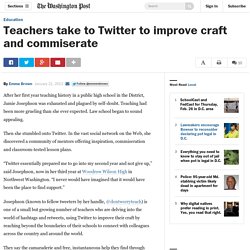 "I never would have imagined that it would have been the place to find support." Josephson (known to fellow tweeters by her handle, @dontworryteach) is one of a small but growing number of teachers who are delving into the world of hashtags and retweets, using Twitter to improve their craft by reaching beyond the boundaries of their schools to connect with colleagues across the country and around the world. They say the camaraderie and free, instantaneous help they find through Twitter — and its steady stream of pithy messages, maximum 140 characters each — is far more useful than traditional school training programs, which often feature fixed agendas, airless rooms and canned speeches by hired experts.
The Landscape: My Top 25 Free Math Resources for Education. The President understands that math teachers have a unique role to play in the future of education.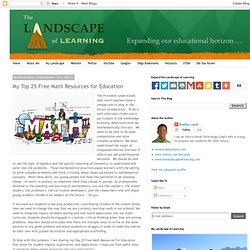 To be a well-informed citizen and a participant in the knowledge economy, Americans must be mathematically literate. We need to be able to do basic computation and solve complex problems. We must understand the magic of compound interest and how it affects our personal financial decisions. We should be able to use the logic of Algebra and the spatial reasoning of Geometry to understand and solve real-life problems. These mathematical practices equip learners with the ability to solve complex problems and think critically about issues unrelated to mathematical concepts. New Teacher Academy: Classroom Management. Welcome to Edutopia's New Teacher Academy!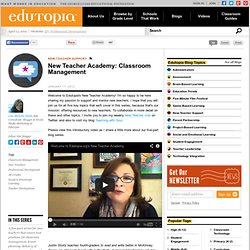 I'm so happy to be here sharing my passion to support and mentor new teachers. I hope that you will join us for all five key topics that we'll cover in this series, because that's our mission: offering resources to new teachers. To collaborate in more detail on these and other topics, I invite you to join my weekly New Teacher chat on Twitter, and also to visit my blog Teaching with Soul. Please view this introductory video as I share a little more about our five-part blog series. Justin Stortz teaches fourth-graders to read and write better in McKinney, Texas. GuitarPlayerU. Untitled. Beirut - A Sunday Smile (Soirée de poche 2009, Paris) (subtitulado)
Music. Community/School. Other Pearltrees users links. Online Articles. *****I RECOMMEND THESE TO START WITH***** Education: Literacy. Neat. Educational Videos.
Books. Autism. Online Tools. Educational Blogs and Magazines.
---