Deryckball
deryckball
Univ. of Victoria - Education Elem. (Pre-service) : I embark on my Educational journey here with you, my PLN. I look forward to learning with you!
Get ready for an exciting lesson you can try with your students the next time you talk about texture . Give your students a piece of paper and tell them to choose two different colored crayons. Use old crayons that have no wrappers on them. After asking your students what the word ' texture ' might mean, ask them how can we ' see ' texture. Kids will come up with all sorts of ideas but you basically want them to say that you can see texture by rubbing it onto paper with pencils or crayons. Go outside for a texture hunt and remind kids to rub their crayons in a ' sleeping ' position and encourage them to try two colors.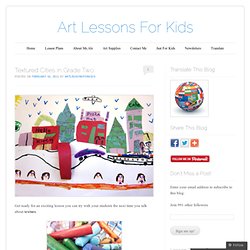 Textured Cities in Grade Two | Art Lessons For Kids
Reflection and reflexivity: linking these skills to classroom practice
There's no doubt that when it comes to personal and professional development it is essential to nurture reflection and reflexivity, but what exactly do they mean? Reflection and reflexivity are frequently used words in connection with professional and personal development. Often we think that what we are doing is reflective or reflexive, but is it really? Are we even sure of what these terms mean when related to our work in schools?
Educational Hash Tags and Live Channels
By ALISON GOPNIK "What was he thinking?" It's the familiar cry of bewildered parents trying to understand why their teenagers act the way they do. How does the boy who can thoughtfully explain the reasons never to drink and drive end up in a drunken crash? Why does the girl who knows all about birth control find herself pregnant by a boy she doesn't even like? What happened to the gifted, imaginative child who excelled through high school but then dropped out of college, drifted from job to job and now lives in his parents' basement?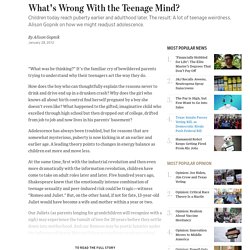 What's Wrong With the Teenage Mind?
A definition and framework for media literacy comes from Wikipedia . " Media literacy is the process of accessing, analyzing, evaluating and creating messages in a wide variety of forms. It uses an inquiry-based instructional model that encourages people to ask questions about what they watch, see and read. Media literacy education is one means of developing media literacy. It provides tools to help people critically analyze messages to detect propaganda , censorship , and bias in news and public affairs programming (and the reasons for such), and to understand how structural features -- such as media ownership , or its funding model [1 ] -- affect the information presented.
Open Thinking Wiki
Making The Right Digital Decisions
Recently, my district began a huge initiative to combat bullying/cyberbullying and to help students become more aware of the choices they make both in their face-to-face lives and their digital decisions as well. There is no one right way or right answer that will stop the problems. However, I do believe that the classroom and our schools are the places where tough conversations need to be had. I have been collecting several resources and I want to share. By no means is this all the stuff that is out there.
Want a short URL to remember to share this specific post with new folks? Just tell them to visit bit.ly/BestTwitterTips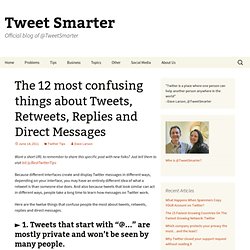 The 12 most confusing things about Tweets, Retweets, Replies and Direct Messages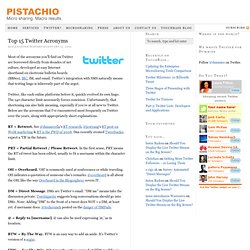 Top 15 Twitter Acronyms
Most of the acronyms you'll find on Twitter are borrowed directly from decades of net culture, developed as easy Internet shorthand on electronic bulletin boards (BBSes), IRC , IM, and email.
SAGE Advice for New Teachers - Global Learning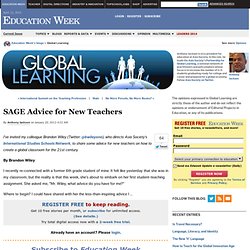 I've invited my colleague Brandon Wiley (Twitter: @bwileyone ), who directs Asia Society's International Studies Schools Network , to share some advice for new teachers on how to create a global classroom for the 21st century. By Brandon Wiley I recently re-connected with a former 6th grade student of mine.
The original chat has spawned dozens of others. There is the Monday night social-studies chat — #sschat — to which Josephson and Kulowiec frequently contribute. It draws about 80 chatters each week. Music teachers (#musedchat), psychology teachers (#psychat) and special-education teachers (#spedchat) all tweet to one another weekly. So do specialists in gifted education (#gtchat), foreign languages (#langchat) and Jewish studies (#jedchat). And of course there is a chat for math teachers (#mathchat) and one for teachers of English (#engchat).
Teachers take to Twitter to improve craft and commiserate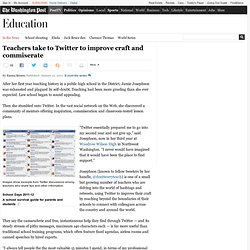 The Landscape: My Top 25 Free Math Resources for Education
The President understands that math teachers have a unique role to play in the future of education. To be a well-informed citizen and a participant in the knowledge economy, Americans must be mathematically literate. We need to be able to do basic computation and solve complex problems. We must understand the magic of compound interest and how it affects our personal financial decisions. We should be able to use the logic of Algebra and the spatial reasoning of Geometry to understand and solve real-life problems. These mathematical practices equip learners with the ability to solve complex problems and think critically about issues unrelated to mathematical concepts.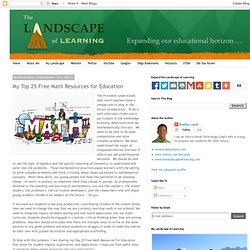 New Teacher Academy: Classroom Management
Welcome to Edutopia's New Teacher Academy! I'm so happy to be here sharing my passion to support and mentor new teachers. I hope that you will join us for all five key topics that we'll cover in this series, because that's our mission: offering resources to new teachers. To collaborate in more detail on these and other topics, I invite you to join my weekly New Teacher chat (1) on Twitter, and also to visit my blog Teaching with Soul (2) . Please view this introductory video as I share a little more about our five-part blog series. Justin Stortz teaches fourth-graders to read and write better in McKinney, Texas.
GuitarPlayerU
unnamed pearl
Failing Boys
Beirut - A Sunday Smile (Soirée de poche 2009, Paris) (subtitulado)
Other Pearltrees users links
*****I RECOMMEND THESE TO START WITH*****
Educational Blogs and Magazines