Gift Ideas
Get flash to fully experience Pearltrees
I love Photoshop techniques that offer all kinds of possibilities for experimentation—and the following tutorial is a perfect example of one of those techniques. In this issue, we're going to take a portrait and replace the person's image with text (think 2009 Grammy posters). Pick a portrait that offers good contrast—a photo that's very dramatic and dark probably won't work as well. I've had the best success with straight-on head and shoulder shots, but again, feel free to experiment with all types of photos. For the best results, choose a photo that has a light background (or select the background around the person and make it lighter). Create a new document (File>New) in a size that's smaller than your photo: the specifics don't really matter.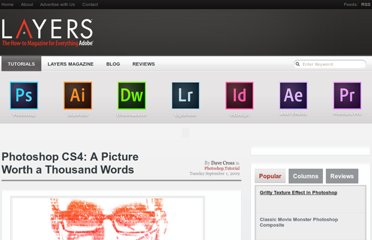 I wanted all my gifts in my Advent house to be hand-made so after making sparkly strawberry lip balm , cool mint lip balm , snowflake hair bobbles and clips, reindeer hair clips and gingerbread crayons I only had a few drawers left to fill. I went for peppermint, snowflake-shaped, glittery soaps and made a few extra snowflake soaps for my Christmas crackers! Snowflake soaps Tools and Materials Snowflake soaps, How-to step by step
I am a total sucker for all things neon, and I could no longer resist picking up the Martha Stewart Crafts Neon Glitter pack that I've had my eye on for quite a while, so be prepared to see plenty of fluorescent paper goodies in the coming months because I am loving this glitter! I just had to add a little bit of neon to my new Holiday Wishes Gift Tags , and the result is a set of merry and VERY bright tags that practically glow against black tissue wrapped boxes. There's no doubt that any gift tagged with one of these babies will stand out among the other gifts under the tree.
I've been thinking about making an amigurumi Hello Kitty for the longest time but I always ended up making different things. I finally hunkered down and came up with a pattern for this mini Hello Kitty. It's part of a Christmas present for a good friend. The process ~ I thought about the general shape of Hello Kitty's head first - she sort of has this flat, oval shaped head so crocheting in the round with a magic circle would not suffice.
Apr 28 This is a project for a campaign I'm doing with Yahoo! Mail on keeping in touch with family and friends. This idea can be used for anyone that is having a special day but is perfect for when you want to do something for someone that lives far away (Mother's Day anyone?)
Today's post is packed with what I call "use-what-you've-got-on-hand" gift wrapping ideas. You can make your own gift wrap with wall art, magazine pages, old maps, clothing patterns, newspaper, parchment paper, fabric, wall paper and other materials. Tie it with pretty ribbon, yarn, string or even Japanese tape ( perhaps you hoard it like I do ). Add a little embellishment for fun and a gift tag.
Posted by Rebecca D. Dillon | | There have been so many people I know having a birthday this month, myself included , I thought it'd be fun to share some ideas for wrapping your gifts in the prettiest of packaging! I think using a mason jar is the most brilliant idea for packaging and it's a diy gift wrap idea and present in one.
There's nothing better than a handmade gift. And what better way to celebrate than with some fun, festive coasters. These coasters are made from inexpensive tiles from the hardware store and are embellished with fun, designer scrapbook paper. Make these coasters as a gift or make them for your home - either way, they are sure to get noticed! Supplies: 4 square tiles from your local hardware store (4.25" x 4.25") 4 pieces of scrapbook paper (3.75" x 3.75") 4 pieces of felt (3.75" x 3.75") Mod Podge Sponge brush Glue (i.e.
By Kate on June 6, 2011 I 'm pretty chuffed with these woven paper gift toppers. They are a sinch to make and look really great with recycled newspaper wrap.
We have seen another variation of this favour before, and we know, we know – the winter nights have yet to draw in; we are technically in sunshine and 99 flake land – but Hot chocolate ritualistically calls us to worship at its warm, comfort-in-a-cup feet. We are going to sound like masochists having just got over one of the worst winters in 30 odd years, but the idea of curling up with a big fat mug of the brown stuff, while enjoying the schadenfreude of bruised backsides and shattered egos – is our kind of heaven (You are more than welcome to copy and paste this line when we are cursing about it being winter!) We seem to have an addiction for filling up glass jars with goodies and junk – so we hope that you enjoy this fantabulous find and idea that we found via Blonde Design – make sure that you get yourself over there as you can download the tags . On top of that, you can see all the other gift ideas that they have – if you need glass jars of course then IKEA is your friend.
Well, we are dusting off our obligatory black armband over in Beyond Beyond land for one of our most favourite shops ever – Early Bright (mega sad face) they have been the purveyors of some delicious and inspirational bling that is more art than jewellery . And we just want to share one of the most beautiful pieces every a wish in a jar. We used to shake dandelion bushes when we were little in the vain belief that we would get a Barbie dream house, Michael Jackson tickets, the ability to breakdance overnight (although we never progressed beyond being able to do backspins), millionaire moolah, or our favourite wish was that we had been dropped off at the wrong house (sorry parental units) and we were really the offspring of some family with the financial clout of Daddy Warbucks and the Rothschild's combined.