Cars
straßenversion
Adam Carolla discusses the Model S with the very articulate and knowledgeable Shanna Hendricks. follow up test drive. Carolla's initial impressions and follow up conclusions about the Model S are very similar to my own.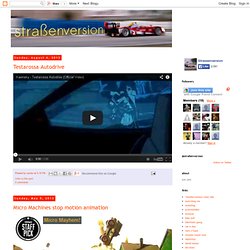 guide.jpg (Image JPEG, 614x874 pixels)
poeticsofspeed
IEDEI
NOTE: Car culture is really lame and IEDEI is not a car blog anymore….so please stop emailing me in regards to suggested articles about cars or advertising. I am not interested. There is more to life than material objects and the mundane, unstimulating world of automobile worship! I've been a much happier person once i came to this obvious realisation. Enjoy what you have and quit wasting your precious life away wishing worshipping pieces of metal. Status post watching a documentary about Big Star.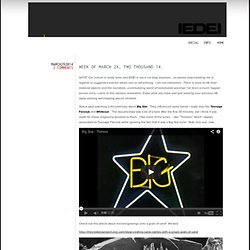 Bridge To Gantry: Nurburgring laptimes, blog, news, videos and forum
Tuner Tuesday: 1980 Porsche 928 Euro Gemballa In the crazy world of Euro tuners, Gemballa stands out for some pretty crazy modifications that are sometimes in questionable taste. But in the 1980s you couldn't flare a car enough, and Gemballa was one of the best. Gemballa actually made several different body kits for the 928, with seemingly few being the same.
German Cars For Sale Blog | The finest modern classic and vintage German cars for sale in North America like the BMW e30 M3, Mercedes 2.3-16, Porsche R Gruppe, Alpina, Hartge, AMG, Carlson, Audi S4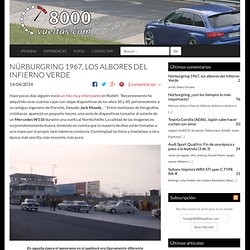 8000vueltas.com
Bueno, de vuelta… nunca nos fuimos, aunque sí que hace tiempo que no os actualizo con las últimas andadas de mi modesto utilitario nipón. La última vez hablábamos de Laguna Seca y su apasionante trazado, y nos quedamos en que ahora que el coche empezaba a tener un comportamiento que nos gusta, era hora de cambiar a una monta de neumáticos más acorde, que recordemos, hasta ahora era una muy conservadora 185/70R13. En mi opinión (y la de muchos diseñadores), lo más crítico para el aspecto de nuestras máquinas son, precisamente, las ruedas, es decir, llantas y neumáticos.
Asphalt Heritage Club
Classifieds
NUMERO 13
Almost immediately after Austin bought his Ruckus, he brought it over to the Box Bros Garage to show it off. Fully stock at the time, ideas of how to modify it were quickly tossed about. "Red frame, black wheels" said one, "Black with gold components" said another. However, Austin already had an idea; "How about classy. Cream frame, brown diamond stitch seat and white walls." The excitement elevated and within weeks Austin had already ordered a long list of parts to begin his build.
Canibeat | Cars • Culture • Lifestyle: If it's proper, it's on Canibeat.com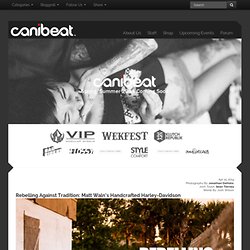 Build Threads
Just like last year, I thought I'd round up the most viewed builds of 2013 and post them up in a list. Looking back and seeing what you and your fellow readers like the most is very interesting to me, and it's a great reason for you to re-check some great builds from the year gone by. Here we go!…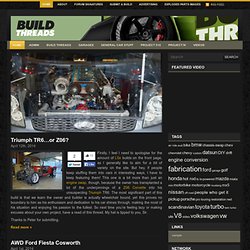 Musings about cars, design, history and culture - Automobiliac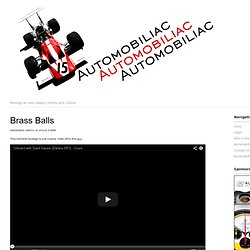 Our latest design at Autodromo is the all-new Prototipo Chronograph, inspired by racing watches of the late 1960s and early 1970s. The centerpiece of the collection is the Vic Elford Edition, limited to 224 numbered pieces with a booklet signed by Quick Vic himself! The color scheme of the watch is inspired by the paintwork on Elford's Porsche 907 with which he dominated the 1968 Targa Florio, winning by 3 minutes and 42 seconds, even after losing nearly 19 minutes due to wheel nuts coming lose and then a flat tire! He set multiple lap records in the process.
PS AutoArt : Paul Stephens | Porsche Specialist | Suffolk UK
TruSpeed Motorcars | Used Porsches | Air-Cooled Porsches | Porsche Service and Repair
Used Cars Sacramento | Used Car Dealer CA | Luxury Motor Cars
BMW 330 ZHPs For Sale (vehicles only)
101 Projects Website
Pelican Parts.com - Parts, Accessories and Technical Information for all BMWs.
BMW M Registry - Model Lists
Porsche 911 Buyers Guide Learn how to Inspect a Porsche 911
Road Inc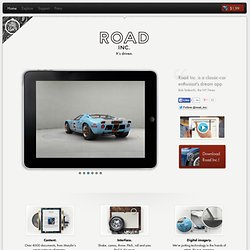 Stunning 3d models and illustrations We believe there is no color such as black or white, nothing such as straight lines or flat surfaces. In hazy hues, Vermeer gradients, seizable textures, dazzling chrome and deep shadows we trust.
Axis Of Oversteer
Enthusiast Auto Group | Specials | Cincinnati Car Dealer | BMW M3
Konzept:Euro Corporation
Aunque pueda parecer que en la actualidad vivimos una escena nacional única, en la que los shows son el ombligo de la automoción y donde llevar lo último y más caro debe significar un acierto seguro; donde se pierde el verdadero sentido de personalizar y donde propietarios y preparadores se convierten en carniceros de ideas, mutilando y adaptando propuestas sin sentido alguno que justifique el cambiar por cambiar más que la constante búsqueda del próximo "gran éxito"; en resumen, donde el objetivo se basa en atraer miradas dejando en el garaje la practicidad, el disfrute, e incluso el sentido común a cambio de una foto en el próximo evento, existe quien vive el día a día como su propio show, empezando lunes y acabando domingo, y en donde la sensación de conducir orgulloso de vuelta a casa prima sobre los likes en las redes sociales y demás parafernalias ajenas a un hombre y su coche. Leer Más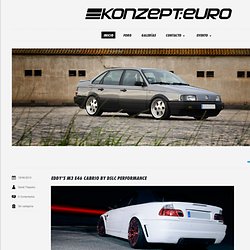 Zen Garage
Cars Move Us
Porsche 964 C2
BMW still holds the record for the most powerful engine every fielded in F1, 1430 hp out of 1500cc in qualifying (i.e. it will blow up after three laps) trim in the late 80s. But the Bavarian's second try at F1 as a race team ended rather badly, just gave up and quit in 2009. The new hybrid engine formula has piqued the interest of more manufacturers.
Axis Of Oversteer
Motoring con BRIO
Guest contributor: Dave Tenbroek on his Audi RS2 Avant « . . .
Auto Guides
Collector Cars For Sale
993 Sports Cars - www.993cars.com
Hell for Leather
EURO Classic Motors | Home