Privacy . Block Tracking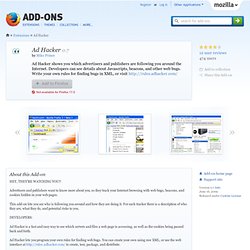 Ad Hacker
Advertisers and publishers want to know more about you, so they track your Internet browsing with web bugs, beacons, and cookies hidden in your web pages. This add-on lets you see who is following you around and how they are doing it. For each tracker there is a description of who they are, what they do, and potential risks to you. Ad Hacker is a fast and easy way to see which servers and files a web page is accessing, as well as the cookies being passed back and forth. Ad Hacker lets you program your own rules for finding web bugs.
Targeted Advertising Cookie Opt-Out (TACO) :: Firefox Add-ons
This tool was originally based on the Advertising Cookie Opt Out Plugin by Valentin Gheorghita, a Google Engineer. It has since been completely rewritten from scratch... updated by Chris Soghoian, Dan Witte, Sid Stamm, and others. Now Abine, the online privacy company, is supporting it and future versions. Please don't use reviews as a support forum - Support can be found here at www.getabine.com/support.php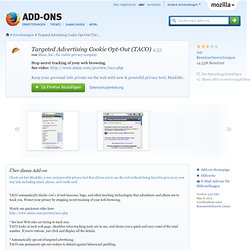 Q: I notice that when I go to the Flash Player settings manager site I still get a list of visited pages. A: In default configuration BetterPrivacy does *not* delete the Flash-Player-default cookie. Some users consider the default cookie as important since it keeps Flash-Player update settings as well as some camera or microphone settings. The default cookie also keeps a complete list of all visited LSO pages.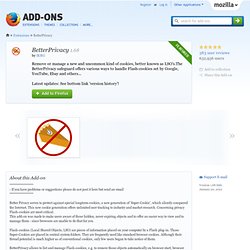 RefControl :: Firefox Add-ons
Ghostery
Ghostery® Privacy StatementLast modified and effective as of: 12 December 2013 This Privacy Statement describes our information practices for the Ghostery browser extension. Ghostery is a free downloadable browser extension that helps you to see what companies are tracking you ('Trackers') on any given website. It is owned by Evidon, Inc. ('Evidon'), and can be downloaded onto your computer, subject to the End-User Licence Agreement ('EULA').
While the last 18 months have marked a monumental boost in browser performance and the beginnings in earnest of the HTML5 web app era, another important story has also been weaving its way through the fabric of internet society — the increasing importance of privacy on the web. Last year, both the US and EU decided that privacy on the web in general, and tracking cookies in specific, should be taken seriously. As a result, both Chrome and Internet Explorer now have tracking protection extensions, and Mozilla has proposed and implemented a Do Not Track HTTP header.
How to visualize behavior tracking cookies with a Firefox add-on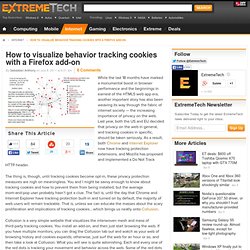 Please report support issues at: http://www.mozdev.org/mailman/listinfo/flashblock This mailing list is public, other people can see your messages including your email address. To send private email please use our contact webpage at: http://flashblock.mozdev.org/contact.html Flashblock 1.5.14 doesn't work on Firefox 2.0.0.x.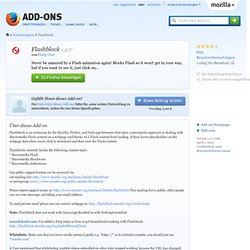 Flashblock :: Firefox Add-ons
NoScript :: Firefox Add-ons
Since this is not a support forum, you won't receive any help here, while your question will likely disappear. If you need support, please1) read the FAQ: http://noscript.net/faq 2) visit this forum: http://noscript.net/forum 3) contact me directly: http://maone.net You're welcome! INSTALLATION ISSUES ARE COVERED BY FAQ 2.1, http://noscript.net/faq#qa2_1 IMPORTANT: before asking or commenting about the *completely anonymous* request made to https://secure.informaction.com/ipecho on startup, or the those sent to your own WAN IP periodically, please read about the WAN IP protection feature at http://noscript.net/abe/wan (mentioned also in the release notes for 2.0 and in the privacy policy here). If you're in doubt about the full anonymity and total privacy of this feature, just check (or let someone you trust check) the source code here, the file is content/DNS.js.