PC.Software
Imke - Strato - ViaJura » … auf dem Weg zum Examen. DriveImage XML V2.30. DriveImage XML English (1.78MB) Image and Backup logical Drives and Partitions File Size:1.78 MB Price: Private Edition Free - Commercial Edition - Buy Now System Requirements: Pentium Processor - 256 MB RAM Windows XP, 2003, Vista, Windows 7, or Windows 8.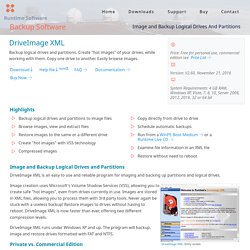 Comodo Firewall. Sich vor ungebetenen Eindringlingen aus dem Internet zu schützen ist für jeden PC-Besitzer ein absolutes Muss.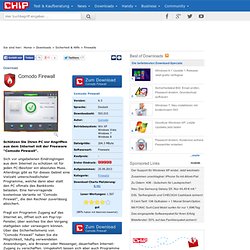 Allerdings gibt es für dieses Gebiet eine Vielzahl unterschiedlichster Programme, welche dann aber statt den PC oftmals das Bankkonto belasten. Eine hervorragende kostenlose Variante ist "Comodo Firewall", die den Rechner zuverlässig absichert. Fragt ein Programm Zugang auf das Internet an, öffnet sich ein Pop-Up-Fenster, über welches Sie den Vorgang stattgeben oder verweigern können.
Free Antivirus. Und falls das nicht genügt...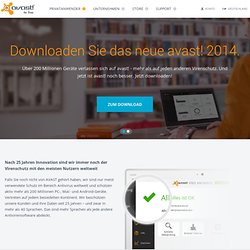 Erhöhen Sie Ihren Schutz und lassen Sie Ihre Programme auf Ihrem PC automatisch aktualisieren. Hacker lauern darauf, dass Nutzer veraltete Versionen von Browsern, PDF-Readern oder anderen Programmen verwenden, um Sicherheitslücken auszunutzen. Weil es daher lästig, aber notwendig ist, all diese Programme manuell zu aktualisieren, übernimmt der automatische Software-Updater von avast! Premier dies für Sie. So stellen wir sicher, dass Sie immer die neuesten Versionen verwenden, um solche Sicherheitsprobleme zu vermeiden. F.lux. KeePass 2.17. Classic EditionKeePass 1.27 Installer: This package contains everything you need to use KeePass.
Simply download the EXE file above, run it and follow the steps of the installation program. You need local installation rights (use the Portable version below, if you don't have these rights). Portable: Firefox to KeePass. What is the Firefox to KeePass Importer?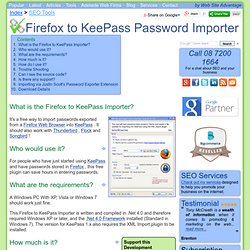 It's a free way to import passwords exported from a Firefox Web Browser into KeePass . It should also work with Thunderbird , Flock and Songbird ! Eusing Free Registry Cleaner. We now support the following languages: Afrikaans, Arabic, Brazilian Portuguese, Bulgarian, Chinese, Catalan, Czech, Danish, Dutch, English, Finnish, French, German, Greek, Hrvatski, Hungary, Italian, Japanese, Korean, Kurdish, Lithuanian, Malay, Norwegian, Polish, Portuguese-PT, Romanian, Russian, Serbian, Slovenian, Spanish, Swedish, Traditional Chinese, Turkish.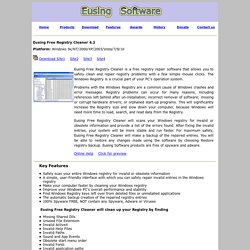 Help us to translate Eusing Free Registry Cleaner into your language.
Update Pack für Windows 7. »Was ist ein Update Pack?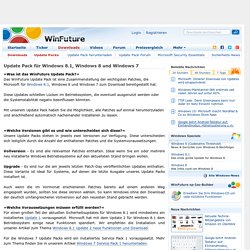 « Das WinFuture Update Pack ist eine Zusammenstellung der wichtigsten Patches, die Microsoft für Windows XP, Windows Vista, Windows 7, Windows 8 und Windows 8.1 zum Download bereitgestellt hat. Diese Updates schließen Lücken im Betriebssystem, die eventuell ausgenutzt werden oder die Systemstabilität negativ beeinflussen könnten. Mit unserem Update Pack haben Sie die Möglichkeit, alle Patches auf einmal herunterzuladen und anschließend automatisch nacheinander installieren zu lassen. »Welche Versionen gibt es und wie unterscheiden sich diese?
Mozilla Thunderbird. Lightning :: Thunderbird Add-ons. LightningButton :: Thunderbird Add-ons. MinimizeToTray revived :: Thunderbird Add-ons. CompactHeader :: Thunderbird Add-ons. AutoCopy 2 :: Thunderbird Add-ons. Signature Switch :: Thunderbird Add-ons.
---