Leaks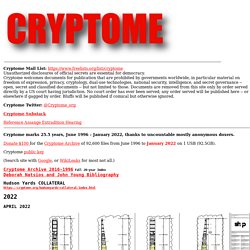 Cryptome welcomes documents for publication that are prohibited by governments worldwide, in particular material on freedom of expression, privacy, cryptology, dual-use technologies, national security, intelligence, and secret governance -- open, secret and classified documents -- but not limited to those. Documents are removed from this site only by order served directly by a US court having jurisdiction. No court order has ever been served; any order served will be published here -- or elsewhere if gagged by order. Bluffs will be published if comical but otherwise ignored.
LeakDirectory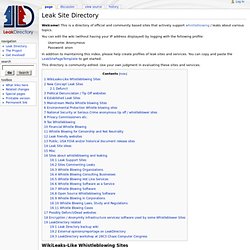 From LeakDirectory Welcome! This is a directory of official and community based sites that actively support whistleblowing / leaks about various topics. You can edit the wiki (without having your IP address displayed) by logging with the following profile:
Anonymous Whistleblowing can be easy and secure. The GlobaLeaks suite of software will empower people to stand up anonymously no matter what their definition of "whistleblowing" is. The person or organization running the software will be able to customize the platform to best suit its needs. GlobaLeaks is designed with flexibility in mind, while enabling maximum level of privacy and security by default. Open source, open documentation. We believe it is important to make this tool a free software because this allows many types of people to use GlobaLeaks and enables the creation of a community that constantly can contribute to improve the framework.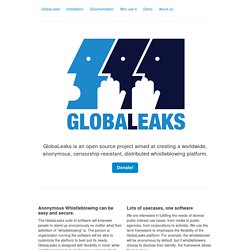 What: David Coombs to give statement and take questionsWhen: 3 hours after court closes following sentencing tomorrow, approximately 1:30 PMWhere: The Hotel at Arundel Preserve, 7795 Arundel Mills Blvd, Hanover, MD 21076Notes: Free parking in the hotel's parking structure, 2nd Floor Conference Room David Coombs, lead attorney for WikiLeaks whistleblower Pfc. Bradley Manning, will give a statement and answer questions from the press, three hours after military judge Colonel Denise Lind delivers Manning's sentence. Today, Judge Lind announced that she would deliver her sentence at 10:00 AM, so the press conference will start at approximately 1:30 PM.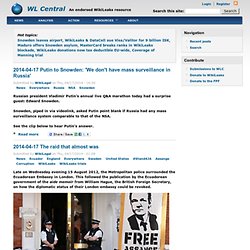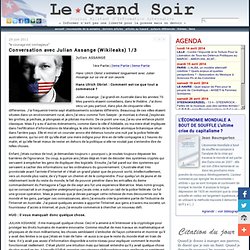 Hans Ulrich Obrist s'entretient longuement avec Julian Assange sur sa vie et son oeuvre Hans Ulrich Obrist : Comment est-ce que tout a commencé ? Julian Assange : j'ai grandi en Australie dans les années 70. Mes parents étaient comédiens, dans le théâtre.
Conversation avec Julian Assange (Wikileaks) 1/3 par legrandsoir
US diplomatic cables browser (all 250k unredacted cables available)
Anonymous réunit des personnes de tous horizons et n'a pas de hiérarchie rigide ni de responsables désignés. Anonymous fonctionne sur la base du volontariat et de la collaboration des individus, dont la plupart ne se connaissent pas directement. Au travers d'espaces de communication publics tels que le chat par Internet (IRC=Internet Relay Chat), des sites Wiki, des projets sont proposés par des Hacktivistes et équipes temporaires réunies autour d'un objectif spécifique. Si d'autres personnes sont intéressées par ces projets, alors Anonymous agit collectivement.
Chaîne de AnonymousFrancophone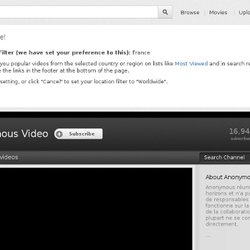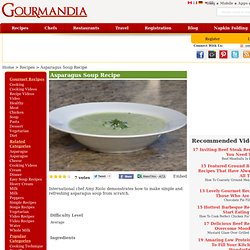 rated 4 stars based on 7 votes Embed close X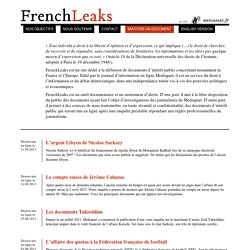 L'histoire commence le 23 octobre 2001, quand décède, après dix jours de coma, Daniel Wildenstein, le plus célèbre collectionneur et marchand d'art du XXe siècle. Pour sa veuve, Sylvia, c'est à l'époque un double choc, affectif d'abord, mais ensuite aussi financier, parce que les enfants que son mari a eus d'un premier mariage, Guy et Alec, lui apprennent assez vite qu'il n'a pas laissé derrière lui, comme elle le pensait, une immense fortune mais qu'il est mort ruiné. Mais les choses sont beaucoup moins claires que cela.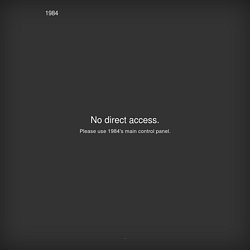 OpenLeaks is a project that aims at making whistleblowing safer and more widespread. This will be done by providing dedicated and generally free services to whistleblowers and organizations interested in transparency. We will also create a Knowledge Base aiming to provide a comprehensive reference to all areas surrounding whistleblowing. Watch our draft video to see how we will work and how this is different from existing whistleblowing platforms. Read our founding statement on our News page for more details.