Exemples
Cable Cooking and the War on Assange. The latest chapter in the quest for open government finds our embattled knight holed up within the grey brick Georgian walls of Ellingham Hall while the dark forces outside attempt a disorderly checkmate.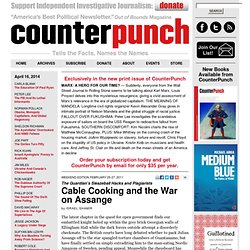 The British courts have long debated whether to pack Julian Assange off to the star spangled torture chambers of Guantanamo, but have finally settled on simply extraditing him to the man-eating Nordic Amazons of Sweden, pending appeal. Meanwhile the chessboard has become crowded with ex-employees, ex-lovers, and ex-friends who compete among themselves to cast mud upon his memory. 09-02 Polish CIA prison: US and Poland had been trying to "put story to rest" #wlfind [Update 2] A new Wikileaks release 05WARSAW4030 finally proves that the United States and Poland colluded in their efforts to silence questions about a CIA prison in Masovia.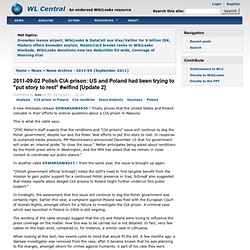 This is what the cable says: "[FM] Meller's staff expects that the renditions and "CIA prisons" issue will continue to dog the Polish government, despite our and the Poles' best efforts to put this story to rest. 07CHENGDU285. C O N F I D E N T I A L SECTION 01 OF 03 CHENGDU 000285 SIPDIS SIPDIS DEPT FOR EAP/CM AND INR E.O. 12958: DECL: 12/7/2017 TAGS: PGOV, CH, SOCI SUBJECT: ENCOUNTER WITH SOUTHWEST CHINA PROPAGANDA OFFICIAL CHENGDU 00000285 001.2 OF 003 CLASSIFIED BY: James A.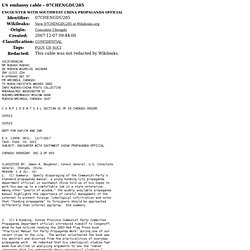 Boughner, Consul General, U.S. Consulate General, Chengdu, China. WikiLeaks: IDF uses drones to assassinate Gaza militants. Cable Reveals Extent Of Lapdoggery From Swedish Govt On Copyright Monopoly. Among the treasure troves of recently released WikiLeaks cables, we find one whose significance has bypassed Swedish media.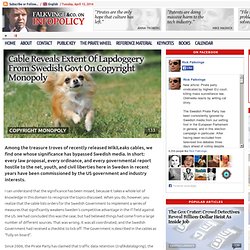 In short: every law proposal, every ordinance, and every governmental report hostile to the net, youth, and civil liberties here in Sweden in recent years have been commissioned by the US government and industry interests. I can understand that the significance has been missed, because it takes a whole lot of knowledge in this domain to recognize the topics discussed. When you do, however, you realize that the cable lists orders for the Swedish Government to implement a series of measures that significantly weakens Sweden's competitive advantage in the IT field against the US.
---