ESRI
Did the date format change for Query, REST, Post, JSON responses at ags 10?
Export shapefile to GDB: Database user name and current user schema do not match
API for Microsoft Silverlight/WPF - Library Reference
JavaScript API Concepts
Customer Care Portal
Support Services Blog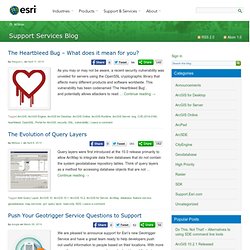 ArcGIS applications now supported on Trimble Positions Great news for ArcPad and ArcGIS for Windows Mobile customers using Trimble Positions Software extensions to collect and post-process DGPS data! Trimble has recently announced support for 10.2 releases of ArcPad, ArcGIS for Windows Mobile and ArcGIS Desktop applications. Trimble allows GIS customers to use the latest update of ArcPad on a laptop or tablet with the capability to post-process and analyze field data collected on a tablet.