Text
Format Text In Photoshop With Kerning and Tracking - Eric Renno
Photoshop does a great job of formatting text and can be quite intuitive. Sometimes however you have to get stuck in a finesse it yourself. In this Photoshop tutorial video, I take a look at kerning and tracking before finishing off the text effect with a few Layer Styles and Blend Mode combinations. Thank you for your support! About the author
Home > Articles > Adobe Photoshop > Technique If you've ever worked on compositing multiple graphical elements into one glorious image, you know how maddening it can be trying to make hair look as natural with a new background as it did in its original location. Matt Kloskowski, author of Photoshop Compositing Secrets, shares some great tricks he uses to get even the wispiest of baby-fine hair to cooperate in Photoshop (no matter how badly it behaves in real life). If you want to get into Photoshop compositing, one of the first features you'll have to conquer is selections.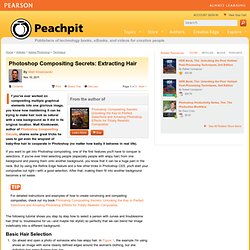 Photoshop Compositing Secrets: Extracting Hair | Photoshop Compositing Secrets: Extracting Hair
Advertisement An understanding of typographic etiquette separates the master designers from the novices. A well-trained designer can tell within moments of viewing a design whether its creator knows how to work with typography.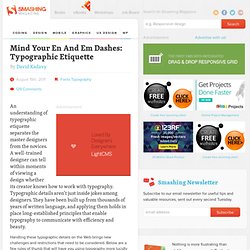 Glossy Glass Text in Photoshop-Show and Tell Graphics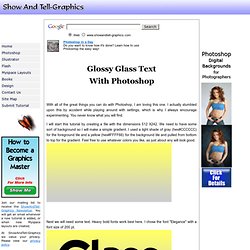 With all of the great things you can do with Photoshop, I am loving this one. I actually stumbled upon this by accident while playing around with settings, which is why I always encourage experimenting. You never know what you will find. I will start this tutorial by creating a file with the dimensions 512 X242.