Design Patterns
Inversion of Control, Dependency Injection
Design patterns, made famous by the "gang of four" (GOF) , as they are fondly called (Erich Gamma, Richard Helm, Ralph Johnson, and John Vlissides), are a collection of proven steps to be followed for a particular type of problem in software scenario. Java Design patterns provide a time tested solution which can be applied to a set of problems (the problems will have a common set of characteristics) to come to a solution. Obviously, the solution should be optimal in terms of execution. Among the different categories of Java Design Patterns available, this article will focus on "Creational Design Patterns" , which focus on the creation of objects in Java from a class or group of classes. The patterns present under the umbrella of Creational Design Patterns basically define:
Applying Creational Design Patterns in Java
Core J2EE Patterns: J2EE Patterns, Refactorings, Best Practices and Design Strategies
Core J2EE Patterns: J2EE Patterns, Refactorings, Best Practices and Design Strategies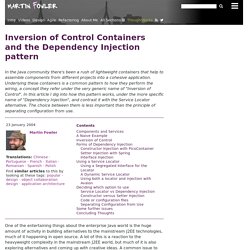 In the Java community there's been a rush of lightweight containers that help to assemble components from different projects into a cohesive application. Underlying these containers is a common pattern to how they perform the wiring, a concept they refer under the very generic name of "Inversion of Control". In this article I dig into how this pattern works, under the more specific name of "Dependency Injection", and contrast it with the Service Locator alternative.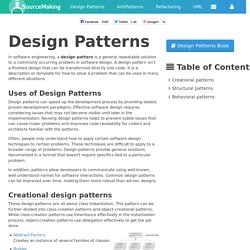 In software engineering, a design pattern is a general repeatable solution to a commonly occurring problem in software design. A design pattern isn't a finished design that can be transformed directly into code. It is a description or template for how to solve a problem that can be used in many different situations.
Java Design Patterns - FluffyCat.com