Deputymitchell
Blog the Leap Year | The World's Biggest Blogging Project
QuadBlogging News I am really pleased to announce that QuadBlogging is undergoing a HUGE makeover both in appearance and behind the scenes. QuadBlogging 2014 is now live at QuadBlogging.com for you to register.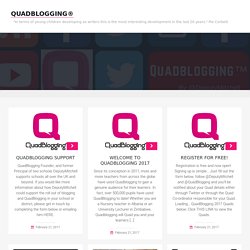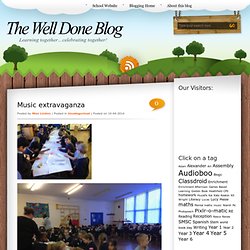 WELL DONE – SHOW MR MITCHELL
Posted by Miss Lindon | Posted in Uncategorized | Posted on 07-01-2014 We are looking at Resolutions for our assembly theme this week. With one week in to the New Year, well done to people who are sticking to their resolve! In assembly this morning, we shared a resolution to each try our best in everything we do. We are going to try to help each other to succeed in this resolution. Posted by Miss Lindon | Posted in Uncategorized | Posted on 05-11-2013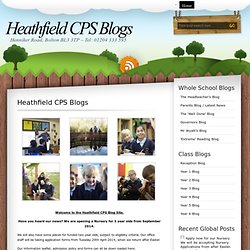 Welcome to the Heathfield CPS Blog Site. Have you heard our news? We are opening a Nursery for 3 year olds from September 2014. We will also have some places for funded two year olds, subject to eligiblity criteria. Our office staff will be taking application forms from Tuesday 29th April 2014, when we return after Easter. Our information leaflet, admission policy and forms can all be down loaded here;
Heathfield CPS Blogs Project Blogs
Deep Maths
World of Pandora | Drawing inspiration with words...
Abigail's Blog | My Special Place!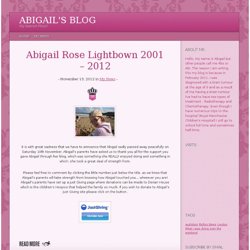 Sorry again for not getting back to you guys for a long time. Well, seven weeks ago, I completed my chemotherapy on the 14th May and also did my SATS that week AND spent two days in the hospital! With some of the Y6, we went to Robin Wood and we had SOOO much fun! What we did was we were hanging from a rope on all of them apart from 2 or 3 games, Piranha pool, which was easy because we weren't in the pool when the actual piranha's came into the pool and they didn't have teeth in their mouths becaude they were taken out before we went in. We were actually not in the pool but we had to go over a pole above the water and the toothless piranha's. Until I saw that we had to climb over the pole, I was terrified!
June 28, 2011 West Indies VS India Eventually, after no win for three one day internationals, West Indies strong side had blown India by 103 runs.
Cricket – The Indian Premier League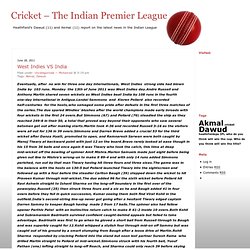 Football Factfiles by Matthew and John | Banner image from: http://www.wallpaperhd.org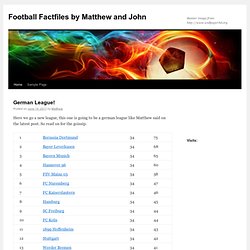 Today we are going to tell you what are the latest gossip on the football world. So read on to find out why the football season gets better, as it ends. Manchester United- Gareth Bale, Ashely Young, Jack Rodwell, Lasandro Sanchez, Martin Steklenburg,Luka Modric, Van der Vaart Manchester City-Gareth Bale, Leighton Baines, Lasandro Sanchez, Edin Cavani, Zaltan Ibrahimovic, Xavi, Wesley Snejder, Van Der Vaart
raja.heathfieldcps
Chapter 1 Had it gone? There I was stood on a street corner panting for my breath. This ferocous beast was pounding after me bang… bang each foot getting closer and closer. I could feel his breath panting on my neck. It was skulking after me.
Fern's Big Idea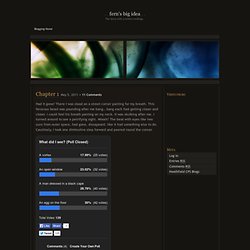 Wiggans's Walkabout
Brilliant! Fantastic! Marvellous! No, no, no! It seems as though as hard as I try, I just can't find the right word to describe the experience that I have had today. Standing 134m over one of the world's most beautiful and diverse cities, on one of the world's most iconic structures, is not as easy to describe as you would like to think.
Wicked Water | Another Year6 Blog Project!
Germany World Cup Blog | Heathfield Primary School
Many days had passed when Michael had been washed away from the Peggy Sue and had landed on an island. Micheal heard a crunching sound in the distant. Stella Artois growled in her throat and barked again.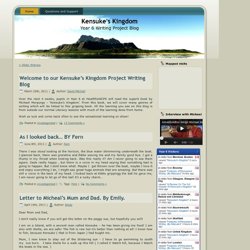 Kensuke's Kingdom
The Sandwich Project | Crowd-sourced recipes reviewed!
Pandora | Drawing inspiration with words...
Heathfield CPS Blogs | Henniker Road, Bolton BL3 3TP - Tel: 01204 333 595
2012 Reception Class Blog
2011 Reception Class Blog
r2010.heathfieldcps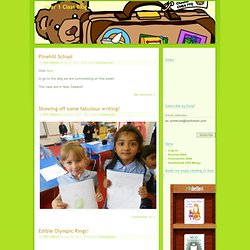 Pinehill School Click here to go to the blog we are commenting on this week! This class are in New Zealand! Sanah My puppy has big ears.
2012 Year 1 Class Blog
2011 Year 1 Blog
2010 Year One at Heathfield
2012 Year 2 Class Blog
2011 Year 2 Blog
2010 Year2 Heathfield blog
2012 Year 3 Class Blog
2011 Year 3 Blog
2010 Year Three at Heathfield
2012 Year 4 Class Blog
2011 Year 4 Blog
201 Year Four at Heathfield
2012 Year 5 Class Blog
2011 Year 5 Blog
2010 Year 5 Blog
2012 Year 6 at Heathfield
2011 Heathfield's Year 6 Blog
2010 Year 6 Blog