Psy
A Periodic Table of Visualization Methods. Semantic Web. Ontology Tools Survey, Revisited. July 14, 2004 A new survey of ontology editors was conducted as a follow-up to an initial survey conducted in 2002.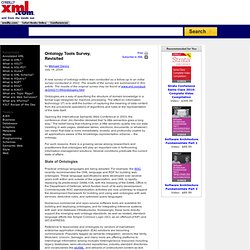 The results of the survey are summarized in this article. The results of the original survey may be found at www.xml.com/pub/a/2002/11/06/ontologies.html. The Protégé Ontology Editor and Knowledge Acquisition System. Linked semantic web data.
Hofstadter
Machine Learning en python.
---