Nurseries
Buy Native Plants online! We make the plants available online when the root balls fill in enough to hold together in shipment. We ship Mondays, (sometimes, Tuesday and Wednesdays as orders and time allow) from Santa Margarita. UPS takes the plants to your door in Los Angeles, Oakland, San Fransisco and most of California the day after we ship.
Las Pilitas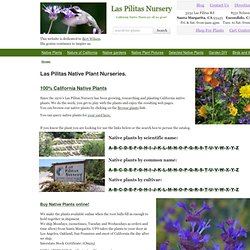 Rancho Soledad Nursery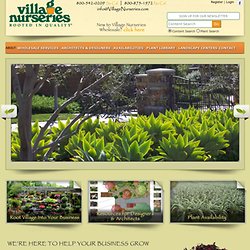 Village Nurseries
Whether you are a Landscape Contractor, Retailer, Wholesaler,Landscape Architect or Designer, you know the importance of a reliable wholesale nursery supplier and how that leads to better value for your customers. As wholesale growers of plants, trees and shrubs, we understand how important it is for you to find the exact materials you need quickly and economically. Our mission is to "Deliver unsurpassed quality, selection and service to our customers to create value and build long lasting relationships". Through our strategic alliances and quality growing practices, our wholesale plant nursery offers the largest array of products and services anywhere. You can rely on Village Nurseries to meet your nursery needs in California and throughout the western United States.
Tree of Life Nursery California Native Plants - Welcome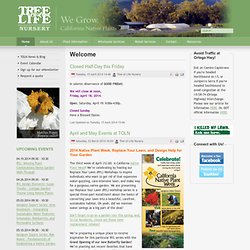 Saturday, 22 March 2014 16:04 Tree of Life Nursery 2014 Native Plant Week, Replace Your Lawn, and Design Help for Your Garden The third week of April (12-20) is California Native Plant Week!
Solution for Landscape Professionals. Bamboo Pipeline is the single source supply solution for landscape professionals, delivering plants and trees along with a full range of other landscape materials directly to your job site – often within 24 hours. We sell over 10,000 varieties of plants and trees. If it is available in California, we supply it, with the highest attention to quality and service the industry has to offer.
Bamboo Pipeline
San Marcos Growers
We hope that you enjoy and find useful the information on the San Marcos Growers website. We are a wholesale plant nursery located in the Goleta Valley, just north of Santa Barbara, California. Since 1979 we have been growing plants appropriate to California's mediterranean climate, including many California native plants, as well as vines, trees, shrubs, ferns, perennials, succulents, ornamental grasses and grass-like plants from other areas around the world. The information on this website shares our experiences with many of these great plants. As a wholesale nursery we do not sell directly to the public but do sell to many retail nurseries and landscape professionals, as noted on our Sales Policy Page.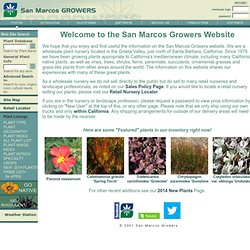 Native Sons Wholesale Nursery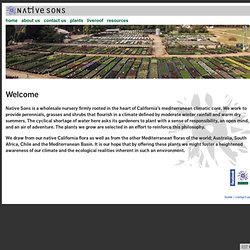 Native Sons is a wholesale nursery firmly rooted in the heart of California's mediterranean climatic core. We work to provide perennials, grasses and shrubs that flourish in a climate defined by moderate winter rainfall and warm dry summers. The cyclical shortage of water here asks its gardeners to plant with a sense of responsibility, an open mind, and an air of adventure. The plants we grow are selected in an effort to reinforce this philosophy. We draw from our native California flora as well as from the other Mediterranean floras of the world; Australia, South Africa, Chile and the Mediterranean Basin.