Depersonalized
gerard
Art
10 Ways the Next 10 Years Are Going To Be Mind-Blowing. We are living in an extremely exciting time in terms of science and technology.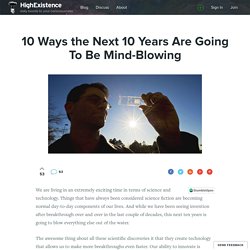 Things that have always been considered science fiction are becoming normal day-to-day components of our lives. And while we have been seeing invention after breakthrough over and over in the last couple of decades, this next ten years is going to blow everything else out of the water. The awesome thing about all these scientific discoveries it that they create technology that allows us to make more breakthroughs even faster. Our ability to innovate is increasing exponentially as the years go by. To give you an idea of the magnitude of this reality, here are 10 amazing innovations to different sectors of life. Your Thoughts Program Your Cells. Some "Basic" Cellular Biology There are thousands upon thousands of receptors on each cell in our body.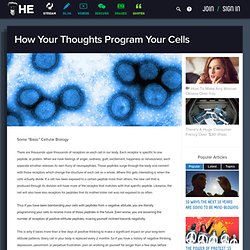 Each receptor is specific to one peptide, or protein. When we have feelings of anger, sadness, guilt, excitement, happiness or nervousness, each separate emotion releases its own flurry of neuropeptides. Those peptides surge through the body and connect with those receptors which change the structure of each cell as a whole. Where this gets interesting is when the cells actually divide. This Will Mindfuck You: The Double-Slit Experiment. The video below shows scientific proof that there is something NOT quite logical or scientific about this universe.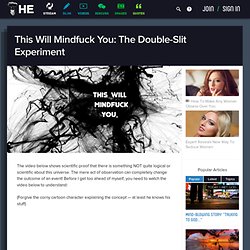 The mere act of observation can completely change the outcome of an event! Before I get too ahead of myself, you need to watch the video below to understand: (Forgive the corny cartoon character explaining the concept — at least he knows his stuff) Recap: When a camera observed the electrons, they acted as particles.
---