shopping 2
Get flash to fully experience Pearltrees
While Pixy Stix may have gotten you all hopped up as a child, you'll need something a bit stronger in your adult years. Enter Nixie Tubes — basically grown-up Pixy Stix laced with 100mg of caffeine. ThinkGeek has the exclusive on Caffeinated Nixie Tubes.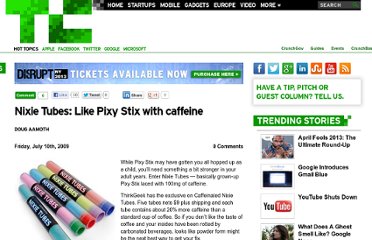 Last November, we learned about Alice.com , a website that promised "free shipping, saving you time, and making sure you never run out of bathroom tissue."
Part number PEL-1010 is suitable for smaller electronics iPods, pagers, flip phones, small cameras Part numbers PEL-1020 and the higher part numbers will accept iPhones, Blackberrys, and other larger phones as well as cameras and other electronics. The Micro Case Series is available with clear lids for easy identification of contents, or solid colors (Black, Red, Blue, Yellow). Note: Pick N Pluck Foam is NOT recommended for use with heavier items. Made in the USA Click here for instructions on using Pick N Pluck Foam.