Photography 1
He Took a Polaroid Every Day, Until the Day He Died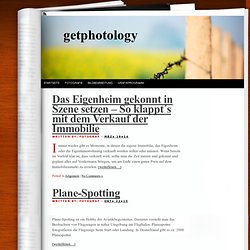 Wenn man in den Urlaub fährt, nimmt man aus Gewohnheit gerne die Digitalkamera mit, um gegeben Falls ein paar schöne Bilder machen zu können. Es kann jedoch der Fall sein, dass das tolle und nicht ersetzbare Foto einen kleinen Schönheitsfehler aufweist, wie z.B. rote Augen oder eine leichte Überbelichtung. Anstatt gleich zu verzweifeln, sollte man erst mal Ruhe bewahren und sich nach einer geeigneten Software für digitale Fotobearbeitung umschauen. Eines der besten Programme in dem Segment "Digitale Fotobearbeitung" ist das bekannte Photoshop, dass mit einem sehr großen Funktionsumfang auftritt und so ziemlich alle gewünschten Extras beinhaltet. Für den privaten Gebrauch ist es allerdings zu umfangreich und auch preislich nicht gerade wohltuend für den Geldbeutel.
photology makes finding photos easy, fast & fun
http://www.pornsaints.org/
Mark Jenkins: Storker Project - Infant Tape Dolls
60 Photography Links You Can't Live Without at CameraPorn
I'm pretty much addicted to photography. Methods, gear, news, you name it. It really is kinda scary. To keep my addiction in check when I'm not shooting or shopping, I need a steady flow of photo content to keep the shakes and withdrawl symptoms from popping up so I put together a list of what i consider to be some of the best photo-related content out there. Read on for more photo link porn than you can shake a stick at including 25 blogs, 20 AMAZING photographers, and some other fun stuff that will make those days you feel stuck at your desk wishing you were shooting go a bit smoother…
This day will never happen again
unnamed pearl
TP: Images of American Political History
Mini scale - a photoset on Flickr
Code: Upgrade Flickr with the Better Flickr Firefox extension
Master Your DSLR Camera, Part 1: Program Mode
xoxo — c 7 11 23 — JK Keller
Cave School!
87 Great Photography Blogs and Feeds
OK, so this may be a bit overkill, but I wanted to share with you some of my photography feeds that I try to keep up with. I'm subscribed to a little over 200 feeds, and just over half of those are about photography. Below are 87 of the photography blogs I follow, though some more closely than others. So if you're looking for more reading material, I'm sure you can find one or two in this list that suit your needs.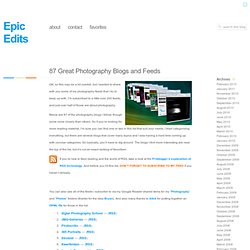 digg's missing picture section
Untitled Document
Panorama
In 1961, President John F. Kennedy announced an ambitious goal of sending an American safely to the Moon before the end of the decade. First, NASA learned to live and work in space with the Mercury and Gemini missions. Ultimately, NASA answered the challenge in 1969 with the successful landing of the Apollo 11 Lunar Module (LM). To record their historic voyages and collect scientific observations many thousands of photographs were acquired with handheld and automated cameras during all the Apollo missions. After returning to Earth, the film was developed and stored at Johnson Space Center (JSC), where they still reside.
Apollo Photographic Support Data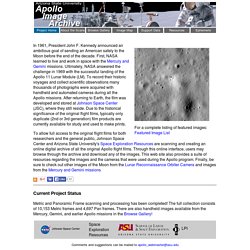 Photos from lichtfaktor
Color + Design Blog / Painting with Light by COLOURlovers
**Update: Check out the LICHFAKTOR interview we did for more photos and a new video. A number of graffiti artists have been tagging everything thought to be impossible without being caught. Well -- it's actually not illegal for them. They're not using paint.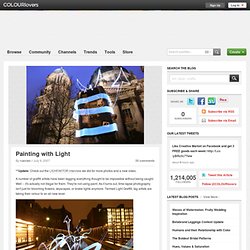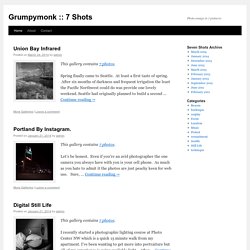 Grumpymonk
In August of 2004 the Republican National Convention was held in New York City. Despite the presence of Wall Street as the symbolic center of the financial industry in the US, the town is generally Democratic and did not take kindly to this decision. Nearly a week of large scale protests and equally large scale crackdowns and arrests by Mayor Bloomberg occurred between August 26th and the 31st. This isn't about the RNC or the protests. Its about what we did to come down from watching our friends getting lined up by the hundreds in zip cuffs for the crime of riding a bicycle with a bunch of other people also on bicycles.
The colors are obtained thanks to .... dried potatoes grains ! Free Exhibition in open-air June 25 - october 15 2004 Hôtel du Département [29-31 cours de la Liberté Lyon 3ème] The Autochrome was patented on 17 December 1903 but not unveiled to the Academy of Science until 30 May 1904, which is why its centennial is celebrated in 2004.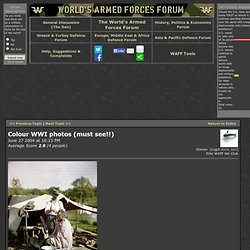 Color Photos of WWI
earth_galileo_big.mov (video/quicktime Object)
One of the nice things about Flickr is that because of their open API a whole host of developers have built more and more interesting things to do with the site. It's interesting to me today that so many of the ways that I use Flickr are not even through the site as designed by Yahoo, but instead through the work of outside developers who are constantly creating new and interesting ways to experience the site. Today I thought I'd share what I think are the top 10 Hacks on Flickr. This list is by no way exhaustive or complete, but as somewhat of a power user who uses the site every day I thought I'd offer some tools that you might want to try out. One note is that many of the best hacks on Flickr today are being done through Greasemonkey scripts.
Thomas Hawk's Digital Connection: Top 10 Hacks on Flickr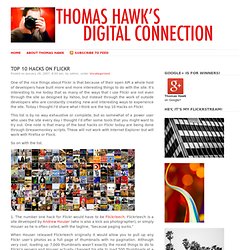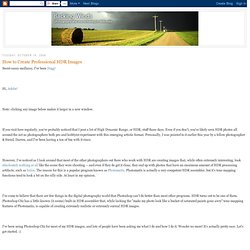 Sweet sassy-mollassy, I've been Dugg! Hi, Adobe! Note: clicking any image below makes it larger in a new window. If you visit here regularly, you've probably noticed that I post a lot of High Dynamic Range, or HDR, stuff these days.
How to Create Professional HDR Images
fredmiranda.com: Specialized in digital cameras, photoshop actio
Stop PIPA. Protect freedom of ... by Fred Miranda at Jan 18, 2012 @ 07:05 PM Take action! Tell CONGRESS!!!! http://www.google.com/landing/takeaction/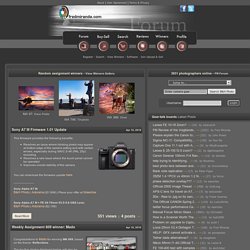 Home Page
Tiny Animals On Fingers - a photoset on Flickr
News: Cropcircles
2006 多媒體展 手山島優 - a photoset on Flickr
Digital to the Core
Photo de Paris de nuit : vue panoramique sur 360°.
Mosaic that goes on forever
TA Live | Textamerica.com
http://mizuno-cleavage.textamerica.com/
tons of high res photos
Impact Lab - Amazing Photos of China
in: Business , Culture , Great New Product , Health & Fitness , Hot Issues , Medical Breakthrough , People Making a Difference Adagio Teas began ten years ago with the desire to introduce customers to an array of gourmet hand picked, whole leaf teas and herbals sourced directly from growers around the world. When they started, many tea drinkers were accustomed to having low quality bags filled with tea dust as their only option. It is now Adagio?s mission to bring tea lovers in all corners of the United States and Canada fresh seasonal teas with abundant flavor and intoxicating aromas that will delight them daily.
The Cream of the Crop - Read the Rules First! Pool
The 1000 views + 100 favourites Pool
S A C H A * D E A N * B I Y A N
A gallery of walls with stuff written on
Wallpaper, Only New Cool Desktop Wallpapers
Van Gogh - Starry Night - Gigapixel Image - Photomosaic
124415main_image_feature_380a_ys_full.jpg (JPEG Image, 3032x2008
September 8–January 21, 2006 Bound for Glory: America in Color is the first major exhibition of the little known color images taken by photographers of the Farm Security Administration/Office of War Information (FSA/OWI). Comprised of seventy digital prints made from color transparencies taken between 1939 and 1943, this exhibition reveals a surprisingly vibrant world that has typically been viewed only through black-and-white images. These vivid scenes and portraits capture the effects of the Depression on America's rural and small town populations, the nation's subsequent economic recovery and industrial growth, and the country's great mobilization for World War II. The photographs in Bound for Glory, many by famed photographers such as John Vachon, Jack Delano, Russell Lee, and Marion Post Wolcott, document not only the subjects in the pictures, but also the dawn of a new era—the Kodachrome era.
Online Exhibition - Bound for Glory: America in Color, 1939-1943
Photos from justdep
Riya - Photo Search
Panoramio