Mobile
Google Latitude wurde am 9. August 2013 eingestellt. Davon betroffen sind Google Latitude in Google Maps für Android, Latitude für das iPhone, die Latitude API, das Public Badge, das iGoogle-Gadget und die Latitude-Website unter maps.google.com/latitude.
Latitude - Google Location History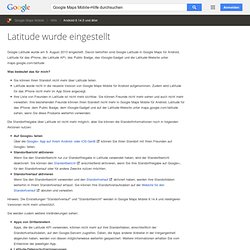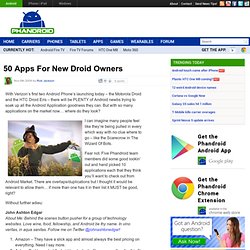 With Verizon's first two Android Phone's launching today – the Motorola Droid and the HTC Droid Eris – there will be PLENTY of Android newbs trying to soak up all the Android Application goodness they can. But with so many applications on the market now… where do they look? I can imagine many people feel like they're being pulled in every which way with no clue where to go – like the Scarecrow in The Wizard Of Bots.
50 Apps For New Droid Owners | Android Phone Fans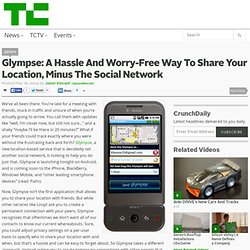 Glympse: A Hassle And Worry-Free Way To Share Your Location, Min
We've all been there. You're late for a meeting with friends, stuck in traffic and unsure of when you're actually going to arrive. You call them with updates like "well, I'm closer now, but still not sure…" and a shaky "maybe I'll be there in 20 minutes?" What if your friends could track exactly where you were without the frustrating back and forth?
Mobile compatibility tables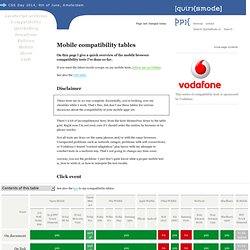 Page last changed today This series of compatibility tests is sponsored by Vodafone. On this page I give a quick overview of the mobile browser compatibility tests I've done so far.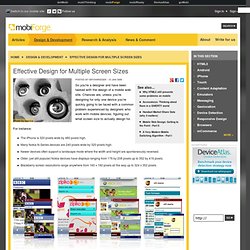 So you're a designer and have been tasked with the design of a mobile web site. Chances are, unless you're designing for only one device you're quickly going to be faced with a common problem experienced by designers who work with mobile devices; figuring out what screen size to actually design for. For instance: The iPhone is 320 pixels wide by 480 pixels high.Many Nokia N-Series devices are 240 pixels wide by 320 pixels high.Newer devices often support a landscape mode where the width and height are spontaneously reversed.Older (yet still popular) Nokia devices have displays ranging from 176 by 208 pixels up to 352 by 416 pixels.Blackberry screen resolutions range anywhere from 160 x 160 pixels all the way up to 324 x 352 pixels. This article is intended to help you develop effective design strategies to target a diverse range of mobile devices and screen sizes.
Effective Design for Multiple Screen Sizes
WeFi Launches Huge Directory of Wi-Fi Hotspots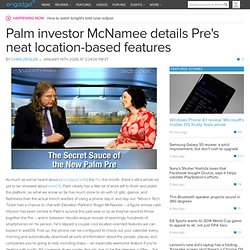 Palm investor McNamee details Pre's neat location-based fea
As much as we've heard about (and played with) the Pre this month, there's still a whole lot yet to be revealed about webOS; Palm clearly has a little bit of work left to finish and polish the platform, so what we know so far has much more to do with UI glitz, glamor, and flashiness than the actual trench warfare of using a phone day in and day out. Yahoo's Tech Ticker had a chance to chat with Elevation Partners' Roger McNamee -- a figure whose cash infusion has been central to Palm's survival this past year or so as they've raced to throw together the Pre -- and in between Houdini-esque reveals of seemingly hundreds of smartphones on his person, he's slipped a couple cool location-oriented features we can expect in webOS.
Posted 2008-01-19 in Mobile Web by Johann. I always get a number of hits from BlackBerry browsers. Fortunately, free BlackBerry emulators are available so I can make sure my sites work as expected.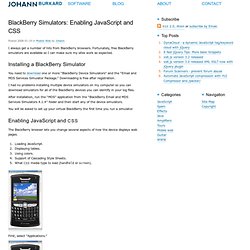 BlackBerry Simulators: Enabling JavaScript and CSS
Palm Pre Overview and Impressions from CES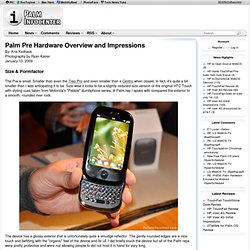 By: Kris KeilhackPhotography by Ryan Kairer January 10, 2009 Size & Formfactor The Pre is small. Smaller than even the Treo Pro and even smaller than a Centro when closed.
We've got this from three independent sources close to Apple: expect a large screen iPod touch device to be released in the Fall of '09, with a 7 or 9 inch screen. Prototypes have been seen and handled by one of our sources, and Apple is talking to OEMs in Asia now about mass production. Apple has been experimenting internally with large form tablet devices for years, one source says, but there was concern that users wouldn't like the device. The difference now is the iTunes app store, which has thousands of games and other applications that are perfect for a touch screen device with an accelerometer. Apple says more than 300 million applications have been downloaded since the App Store launched in July 2008.
Large Form iPod Touch To Launch in Fall '09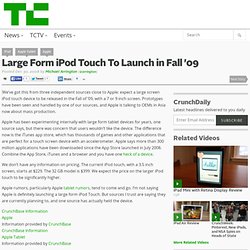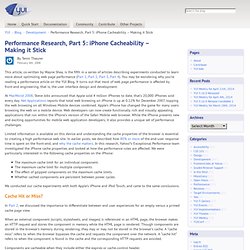 This article, co-written by Wayne Shea, is the fifth in a series of articles describing experiments conducted to learn more about optimizing web page performance (Part 1, Part 2, Part 3, Part 4). You may be wondering why you're reading a performance article on the YUI Blog. It turns out that most of web page performance is affected by front-end engineering, that is, the user interface design and development. At MacWorld 2008, Steve Jobs announced that Apple sold 4 million iPhones to date, that's 20,000 iPhones sold every day. Net Applications reports that total web browsing on iPhone is up at 0.12% for December 2007, topping the web browsing on all Windows Mobile devices combined.
Performance Research, Part 5: iPhone Cacheability - Making it St
iPhoneize your website, instantly!
If you don't know anything about the iPhone, the MobileSafari browser, or web design in general, creating an iPhone version of your website can be daunting. Intersquash.com makes it easy. Just put in the address of your site's RSS feed, give it a name, and click iPhoneize. If you want, upload an icon.
The Android SDK includes a mobile device emulator — a virtual mobile device that runs on your computer. The emulator lets you develop and test Android applications without using a physical device. This document is a reference to the available command line options and the keyboard mapping to device keys.
This is a guest post written by Dave Sloan, Marketing Director of Avot Media. Avot Media is the innovator behind tipMotion, the high performance video transcoding and near-real-time streaming appliance enabling video delivery to Web-enabled mobile devices. Social networking is quickly taking hold among mobile users. Juniper Research believes there will be as many as 54 million mobile social networkers worldwide by the end of 2008 and forecasts adoption to rise to 730 million users in 2013. That's a lot of mobile friendships!
Exploring Best Practices for Building and Monetizing Mobile Soci
Safari Web Content Guide for iPhone: Using Conditional CSS
AT&T Slaps Family With a $19,370 Cell Phone Bill
Welcome – slydial
Mobile Apps: Poll Everywhere Gathers Votes by SMS
MMA Releases Best Practices for Mobile Ads
Global Authoring Practices for the Mobile Web
Is there a glossary of wireless technology expressions? [The Wir
The Wireless FAQ [The Wireless FAQ]
Developer Network - Home
WiFi Cafes and Hotspots
Treasuremytext - The simple way to save your favorite SMS messag
Archive » Texas Instruments pocket projector prototype
Mosio - People Powered Mobile Search - SMS Search, Free Mobile Q
Your Mobile Phone Community & Resource - The Official Samsun
Welcome to bluepulse : my place on mobile