Da fare
Godego.pdf (Oggetto application/pdf)
A:. Questions relating to the possibilities and properties of fibre cement A1. Molding/Curing A1.1 During which part of the manufacturing process are the corrugated sheets formed, does it need a mold?
Q&A | Bullhorn - Cembrit Design Competition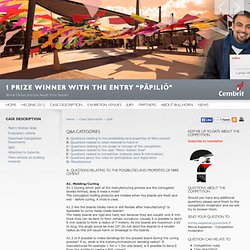 ORIGAMI Competitions
In an attempt to encourage and support students enrolled in related tertiary courses to attend and benefit from the WSUD2012 conference, a competition is being developed with a substantial cash prize ($10,000 per team). International Open 05 December 2011 05 December 2011
7th International Conference on Water Sensitive Urban Design - The Centre For Water Sensitive Cities Design Competition
unnamed pearl
Concursos de arquitectura internacionales para estudiantes y arquitectos.
Project Proposal Calling all Engineers, Architects, Designers, Sculptors, Builders, Chefs, Agriculturists, Videographers, Technologists, Artists and Makers of all kinds You supply the vision and plan. We'll supply 100+ energetic campers and staff and 700+ acres of forest, mountain and lakes as studio, canvas and workshop. Submit your Beam Project Proposal now. THE PROJECT Every year Beam commissions unique large-scale collaborative Projects that serve as centerpieces of each Beam session.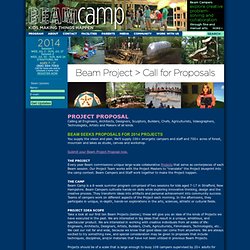 Beam Summer Camp: Kids Making Things Happen through practice of fine and manual arts, innovative thinking, design, creative process, story-telling, building, and engineering.
d3 Housing Tomorrow 2011
"Bullhorn – Cembrit Design Competition" - 1st prize €10,000 - thank-you-bullhorn
AWR Competitions - Architecture Workshop in Rome
ABOUT COMPETITION - Slide Design
10+ Competition