Typography
National Archive font download free. S Scriptorium Fonts and Graphic Arts. Our imaginations link the Colonial era with images of idealism, revolution and adventure.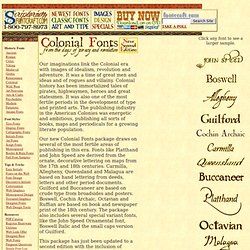 It was a time of great men and ideas and of rogues and villainy. Colonial history has been immortalized tales of pirates, highwaymen, heroes and great statesmen. It was also one of the most fertile periods in the development of type and printed arts. The publishing industry in the American Colonies was energetic and ambitious, publishing all sorts of books, maps and periodicals for a growing literate population. Our new Colonial Fonts package draws on several of the most fertile areas of publishing in this era.
American Scribe, a Declaration of Independence Font. "I happened across your website completely by accident, and I was astounded by the fonts I found there.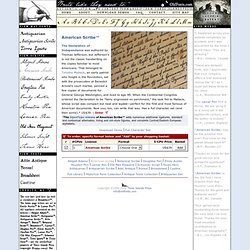 They are amazing." —M.S., Ontario, Canada. Script > Calligraphy fonts. 14 High Quality Fresh Free Fonts. Typography is a very important part of Designing.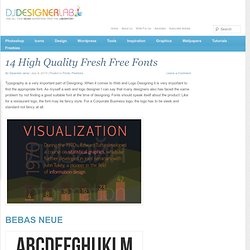 When it comes to Web and Logo Designing it is very important to find the appropriate font. As myself a web and logo designer I can say that many designers also has faced the same problem by not finding a good suitable font at the time of designing. Fonts should speak itself about the product.
50 High-Quality Free Fonts for Professional Design. Get the FlatPix UI Kit for only $7 - Learn More or Buy Now Designers love to have a lot of quality fonts available to them, and fortunately there are some very good free fonts out there.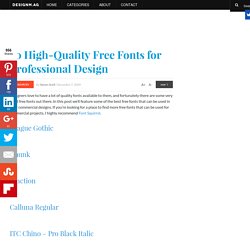 In this post we'll feature some of the best free fonts that can be used in your commercial designs. If you're looking for a place to find more free fonts that can be used for commercial projects, I highly recommend Font Squirrel. 15+ Beautiful and Classy Headline Designs. Creating beautiful type treatments is hard work.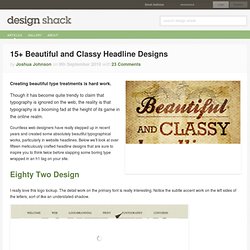 Though it has become quite trendy to claim that typography is ignored on the web, the reality is that typography is a booming fad at the height of its game in the online realm. Countless web designers have really stepped up in recent years and created some absolutely beautiful typographical works, particularly in website headlines. Below we'll look at over fifteen meticulously crafted headline designs that are sure to inspire you to think twice before slapping some boring type wrapped in an h1 tag on your site. Eighty Two Design. Type Library: Type Classifications. 50 High-Quality Free Fonts for Professional Design.
---