Content
5 Tips for Great Content Curation. Steven Rosenbaum is the CEO of Magnify.net, a real-time video curation engine for publishers, brands, and websites.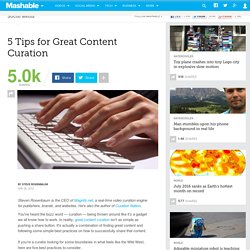 He's also the author of Curation Nation. You've heard the buzz word — curation — being thrown around like it's a gadget we all know how to work. In reality, good content curation isn't as simple as pushing a share button. Content Curation: What Does it Take to Be Successful? WebProNews had a little Q&A with Kate Brodock, the Executive Director of Digital and Social Media at Syracuse University about content curation on the web.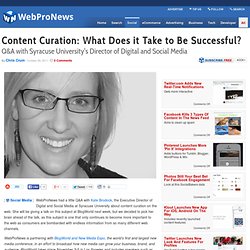 She will be giving a talk on this subject at BlogWorld next week, but we decided to pick her brain ahead of the talk, as this subject is one that only continues to become more important to the web as consumers are bombarded with endless information from so many different web channels. WebProNews is partnering with BlogWorld and New Media Expo, the world's first and largest new media conference, in an effort to broadcast how new media can grow your business, brand, and audience. Content Curation. 12 Essential Tools for the Content Marketer. Marcia Kadanoff is the CEO and founder of Open Marketing, an online agency specializing in content and inbound marketing.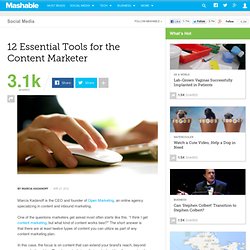 One of the questions marketers get asked most often starts like this. "I think I get content marketing, but what kind of content works best?"
---