RSS
BlogSieve.com: Advanced Feed Processing for Atom, RDF and RSS. Create new feeds by filtering, merging and sorting existing feeds. Auto HTML-RSS Update with FTP Support. What is RSS?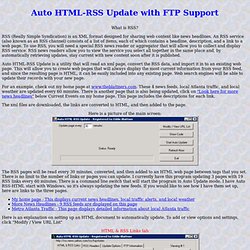 RSS (Really Simple Syndication) is an XML format designed for sharing web content like news headlines. An RSS service (also known as an RSS channel) consists of a list of items, each of which contains a headline, description, and a link to a web page. To use RSS, you will need a special RSS news reader or aggregator that will allow you to collect and display RSS service. Rss mashup tool and more. WizardRSS | Full Text RSS Feeds. How To Discover The RSS Feed Of A Webpage If The Feed Link Isn't There. Hmm"¦The Case of the Missing RSS Feed.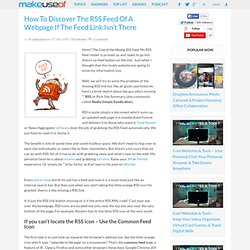 My RSS feed reader is primed up and ready to go but there's no feed button on the site. Just when I thought that this lovely website was going to solve my information lust. Well, we will try to solve the problem of the missing RSS link but like all good case histories here's a brief sketch about the guy who's missing "" RSS or Rich Site Summary (also commonly called Really Simple Syndication). Jamesoo.com Find what you'll never expect. RSS Feed Search Engine - Real-Time Search Powered by FeedRank® Search 4 RSS. xFruits - Compose your information system.
Filter RSS feeds with Feed Rinse. Your Personal Newspaper.
---