Art
DEMONOLOGY 101: an online comic about high school and other forces of evil By Faith Erin Hicks. MeowLexa. Speed painting - Geisha abstract. I Paint. Speed painting - our endless abnegation. Sketchbook Secrets: 50 Beautiful Sketchbook Scans. The sketchbook is—to borrow a term from the new millenniums' popular discourse—an artist's BFF.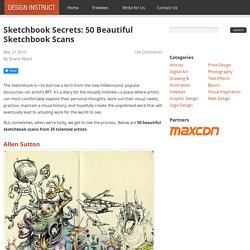 It's a diary for the visually inclined—a place where artists can most comfortably explore their personal thoughts, work out their visual needs, practice, maintain a visual history, and hopefully create the unpolished work that will eventually lead to amazing work for the world to see. But, sometimes, when we're lucky, we get to see the process.
Below are 50 beautiful sketchbook scans from 35 talented artists. Allen Sutton Mattias Adolfsson.
---