Demani_g
The Online Advertising Industry: Infographic
Pictures in a Row
50 Sites Like Sourceecreative | Sourceecreative
Show Ad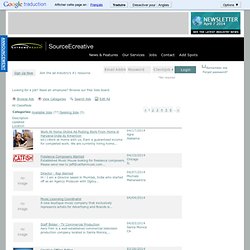 Looking for a job? Need an employee? Browse our free Jobs board. kathmandu alaska
50 Great Adobe Photoshop Tutorials That Every Designer Should Know About
TheWrap.com | Entertainment Industry Analysis, Breaking Hollywood News
実際のところ 最近よく耳にする「放射能」 気になって、調べても、ややこし過ぎて、よくわからない!! と、いう方が多いのではないでしょうか?
PCDP :: PLASTERCITY DIGITAL POST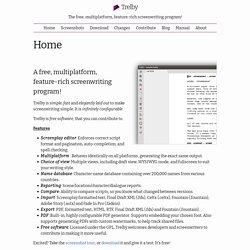 Trelby
A free, multiplatform, feature-rich screenwriting program! Trelby is simple, fast and elegantly laid out to make screenwriting simple. It is infinitely configurable. Trelby is free software, that you can contribute to. Features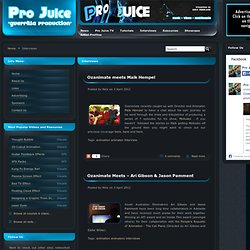 Posted by Nick on 5 August 2011 Pekka Stokke is an editor, VJ and visual artist working from Trondheim in Norway. He can often be seen throughout Northern Europe projecting visuals for jazz groups, electronic acts and metal bands such as Motopsycho. His work is experimental to say the least and is always captivating. Here, he talks all things tech and lets us know what he's recently been up to.
Interviews | Pro Juice - Music Video Multimedia
CHE - Crazy Horse Effects
Buddha Jones | About Us
Dailies and Proxies: Alexa and Resolve
In: Workflow Published on 06 October 2011 By John Burkhart Hits: 2459 Arri Alexa shoots gorgeous footage to Quicktime Pro Res 4444, however the file sizes are huge (1hr = 140GB) , and the bandwidth requirements can be challenging to work with.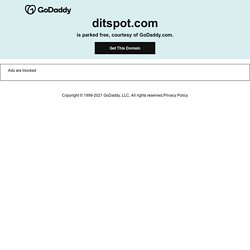 #PostChat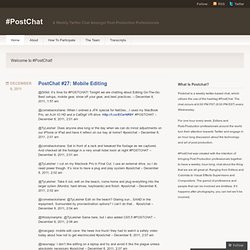 This week on #PostChat, we discussed our process for archiving and shelving projects. Moderators: @dr0id, @tejbabra, @artguillotine, @TyLeisher @FinalCutWhiz: So, I am fairly new to archiving (not very good). Anyone wanna start sharing some tips? Please?
Luma Pictures
Plus writing contests and other sources of funding (or unpaid publication) for writers • American Library Association awards • Award competitions and contests, lists of • Awards for biography and biographers • Contest scams and competitions to be wary about • Indie awards of several kinds • PEN American literary awards • Links to lists of poetry awards • Links to various important and minor awards, grants, fellowships, competitions • Getting funded: grant proposal writing and fundraising (tips, guides, books, workshops) • Sites listing fellowships and grants If a link doesn't work, or an important site is not listed, let me know. URLs change so often it's hard to keep up! Google the terms given here and you're likely to find the site (unless an award is no longer given).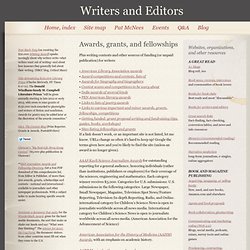 Awards, grants, fellowships - Writers and Editors
Is your business on Twitter? It should be. The microblogging site has tweeted its way, 140 characters at a time, to the top of the social media ladder. With more than 200 million members sending out an estimated 65 million tweets per day, your business should be engaged.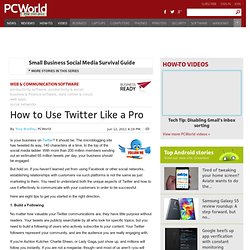 How to Use Twitter Like a Pro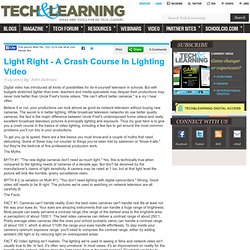 Light Right - A Crash Course In Lighting Video
7/15/2003 By: John Jackman Digital video has introduced all kinds of possibilities for do-it-yourself television in schools. But with budgets stretched tighter than ever, teachers and media specialists may despair their productions may never look better than Uncle Fred's home videos. "We can't afford better cameras," is a cry I hear often.
Alexa | Light Iron
Cut+Run's managing director/EP Michelle Burke and editor Steve Gandolfi have launched a new Cut + Run Los Angeles office in Santa Monica. Located at 2044 Broadway, Cut + Run Los Angeles features Gandolfi, Jay Nelson and Isaac Chen and also represents the award-winning editing talent from Cut+Run New York, UK and Asia. "This is an exciting time for the company with our expansion into Asia and the development of the new Cut+Run Los Angeles," said Burke.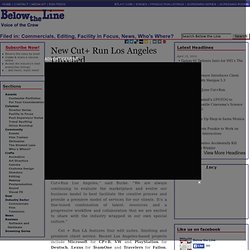 New Cut+ Run Los Angeles Unveiled | Below the Line