Stores
Unique Gifts & Unusual Gift Ideas. Buckyballs | The Amazing Magnetic Desktoy You Can't Put Down. 100+ Sites to Download All Sorts of Things. These days you can find all sorts of things online, from audio books to flash files, from sound effects to CSS templates. Below we compiled a list with over 100 download sites that serve that purpose. We will also try to keep the list updated, so if your favorite download site is not here, let us know about it with a comment. Audio Books Librivox: One of the most popular audio libraries on the web. 36 High-Quality Latest Free Fonts To Enhance Your Designs | Fonts. Typography is the art and techniques of arranging type, type design, and modifying type glyphs.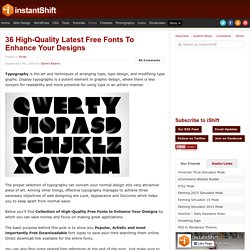 Display typography is a potent element in graphic design, where there is less concern for readability and more potential for using type in an artistic manner. The proper selection of typography can convert your normal design into very attractive piece of art.
---