Mercado
São Paulo - Faturamento no Brasil salta 45% no 1º semestre, com 11,5 milhões de consumidores online.
E-commerce nacional fatura R$ 3,8 bilhões no 1º semestre, diz e-
Vivo desbloqueia o iPhone 3G diretamente pela internet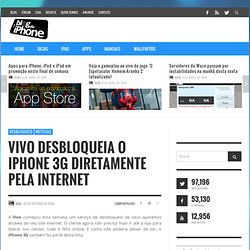 out 20
Venda de TI exige especialização por parte do varejo nacional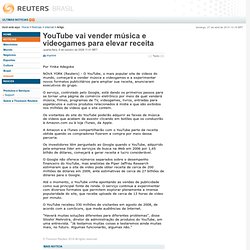 Por Yinka Adegoke NOVA YORK (Reuters) - O YouTube, o mais popular site de vídeos do mundo, começará a vender música e videogames e a experimentar novos formatos publicitários para ampliar sua receita, anunciaram executivos do grupo. O serviço, controlado pelo Google, está dando os primeiros passos para se tornar uma página de comércio eletrônico por meio da qual venderá música, filmes, programas de TV, videogames, livros, entradas para espetáculos e outros produtos relacionados à mídia e que são exibidos nos milhões de vídeos que o site contém.
YouTube vai vender música e videogames para elevar receita
How do bloggers make money?
Professional bloggers face pressure to produce quantity over quality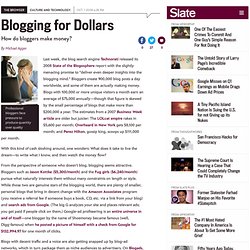 Cinco razões para comprar e não comprar o iPhone
o s resultados do crescimento de audiência na web, a ponto de começar a se tornar o monopólio, de fato, de busca na rede, estão começando a afetar o comportamento de google e a por, em sério risco, o motto [ ] da companhia. o new york times publicou no último fim de semana uma reportagem de joe nocera [ grátis, aqui, no iht ] sobre uma pequena companhia [ sourcetool.com ] que estava faturando [em 2006] cerca de 600 mil dólares por mês [500 mil pagos a google por uso de adSense, 100 mil de lucro] e está indo pro espaço porque google resolveu mudar os lances mínimos para os anúncios que a sourcetool usava… para algo entre 20 a 200 vezes mais do que o valor usual.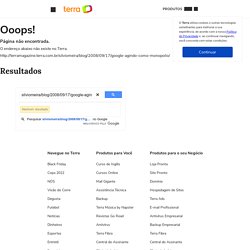 Google: agindo como monopólio
Internet Traffic Begins to Bypass the U.S.
Quem tem contrato de fidelidade deverá pagar multa para usar a p
Info on Intel's Dual-Core Atom 330 Processor Hits Internets
Projetos podem reduzir peso dos cartões para empresas
Projetos podem cortar custos dos cartões de crédito para empresas O compartilhamento das máquinas de crédito e débito e a unificação destes sistemas aliados à imposição de um teto para o valor repassado às administradoras - de até 2% sobre o valor da venda – deverão gerar economia de até 65% nos custos dos empresários. A estimativa é da Federação do Comércio do Estado de São Paulo (Fecomercio) e está baseada nos gastos que envolvem aluguel de duas máquinas por estabelecimento e taxa de administração de 6%.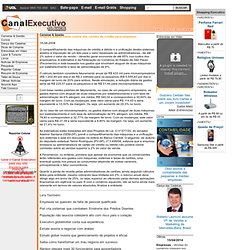 Alexandre Hohagen conta os novos rumos do Google na América Lati
A carreira de Alexandre Hohagen impressiona qualquer um.
Intel Adds Processors, Cuts Core 2 Quad, Xeon Prices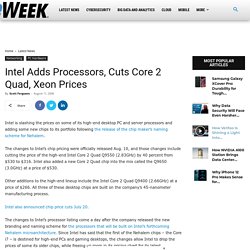 Intel is slashing the prices on some of its high-end desktop PC and server processors and adding some new chips to its portfolio following the release of the chip maker's naming scheme for Nehalem .
Intel is planning to devote most of its energy at IDF on detailing the features behind its processor microarchitecture dubbed "Nehalem," including a new brand name for this upcoming family of desktop chips. Intel is expected to officially brand the processors that will be built on the Nehalem architecture as Intel Core on Aug. 11.
Intel Brands 'Nehalem' Processors as Intel Core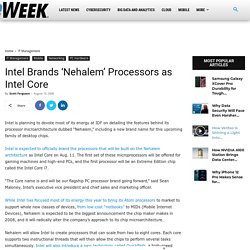 São Paulo - Consultoria estima que consumo global de acesso à web em alta velocidade atinja penetração de 25% nos próximos anos.
Mundo terá 499 milhões de conexões de banda larga em 2012, prevê
Omnisio poderá trazer melhorias para Youtube e Google Docs
O Google adquiriu nesta semana a empresa Omnisio O serviço fechou as portas logo após a aquisição e acreditamos que sua aquisição poderá trazer melhorias tanto para o .
Google to Extend Reach With Venture-Capital Arm
Google Inc. GOOG -0.05% is working on plans to start a venture-capital arm, according to several people briefed on the discussions. The group will be led by David Drummond, Google's senior vice president of corporate development and chief legal officer, according to two of these people.
Google pode lançar fundo de capital de risco
Impuesto a internet para la industria de la música en Reino Unid
By Katie Marsal During his quarterly financial results call, Apple's chief financial officer Peter Oppenheimer revealed that the company will make a key "product transition" that cuts back on its profit margins to help shut out rivals. A frequent point of discussion during the hour-long call , the mystery transition will drop Apple's gross margins from 34.8 percent in the spring quarter to just 31.5 percent in the July-to-September window in which the update takes place, ultimately settling at about 30 percent during Apple's fiscal 2009. Oppenheimer is deliberately short on details, not wanting to pre-announce the product or allude to its nature, but explains that cost will be a driving factor. The Cupertino, Calif.
Apple plans mystery "product transition" before Septem