Travel
Ebookers.ie - Cheap flights, hotels, cheap holidays from Ireland's leading online travel agent. Official Tourism Website for Irish holiday accommodation, activities, events, attractions. Ryanair. Aerlingus. The World Factbook. Irish Rail. Ski Holidays - Highlife - Ireland's No1 Company for Ski Chalet Holidays in Morzine, Meribel & Val d'Isere. Dublin Bus. Panoramic pictures and virtual tour of World - 360 Cities. Welcome to Earth!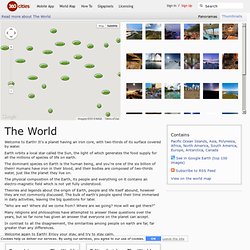 It's a planet having an iron core, with two-thirds of its surface covered by water. Earth orbits a local star called the Sun, the light of which generates the food supply for all the millions of species of life on earth. The dominant species on Earth is the human being, and you're one of the six billion of them! Humans have iron in their blood, and their bodies are composed of two-thirds water, just like the planet they live on.
Lonely Planet- Travel Guides and Travel Information.
---