Body Building
MMA Grappling Workout — Strongest Man. It seems lately that I have been on a roll with MMA style workouts.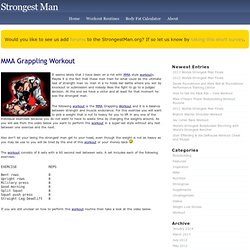 Maybe it is the fact that these men train for what could be the ultimate test of strength man vs. man in a no holds bar battle where you win by knockout or submission and nobody likes the fight to go to a judges decision. At the end we have a victor and at least for that moment he was the strongest man. The following workout is the MMA Grappling Workout and it is a balance between strength and muscle endurance. For this exercise you will want to pick a weight that is not to heavy for you to lift in any one of the individual exercises because you do not want to have to waste time by changing the weights around.
As you will see from the video below you want to perform the workout in a super-set style without any rest between one exercise and the next. Muscle and Fitness training. Hard Core - Exercises to Strengthen Your Abs For Better Performance. #1 Exercises Guide! Over 300+ Free Exercise Videos And Guides! LEARN from the Experts: Encyclopedic exercise database with detailed instructions, notes, and video HELP the Community: Login to rate, critique, and comment on any exercise FIND What You Need: Browse or search exercises by type, body part, and name Browse Muscles Targeted Find An Exercise By Name: Top Rated Exercises Newest Exercises Featured Body Part.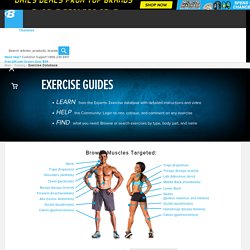 Two hundred sit-ups. So, you've completed your initial test and you're keen to start the program?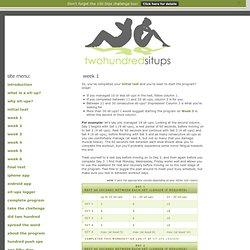 Great! If you managed 10 or less sit-ups in the test, follow column 1. If you completed between 11 and 20 sit-ups, column 2 is for you. Between 21 and 30 consecutive sit-ups? Impressive!
---