Hacking
Ebook Search & Free Ebook Downloads - Ebookbrowse.com. Exploits Database by Offensive Security. Google hacking. Basics[edit] The following search query will locate all websites that have the words "admbook" and "version" in the title of the website.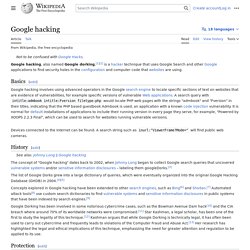 It also checks to ensure that the web page being accessed is a PHP file. intitle:admbook intitle:version filetype:php One can even retrieve the username and password list from Microsoft FrontPage servers by inputting the given microscript in Google search field: Operators and more search help - Web Search Help.
How to use Google for Hacking. | Arrow Webzine. Google serves almost 80 percent of all search queries on the Internet, proving itself as the most popular search engine.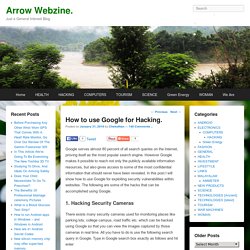 However Google makes it possible to reach not only the publicly available information resources, but also gives access to some of the most confidential information that should never have been revealed. In this post I will show how to use Google for exploiting security vulnerabilities within websites. The following are some of the hacks that can be accomplished using Google. Google hacking master list. This master list of Google Hacking command sets has show up on a forum in Russia, as well as on Scribd.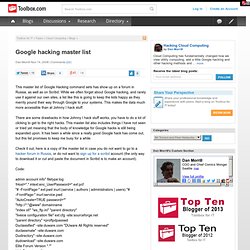 While we often forget about Google hacking, and rarely use it against our own sites, a list like this is going to keep the kids happy as they merrily pound their way through Google to your systems. This makes the data much more accessible than at Johnny I hack stuff. There are some drawbacks in how Johnny I hack stuff works, you have to do a lot of clicking to get to the right hacks. This master list also includes things I have not seen or tried yet meaning that the body of knowledge for Google hacks is still being expanded upon.
Google Dorks. Cache: If you include other words in the query, Google will highlight those words within the cached document.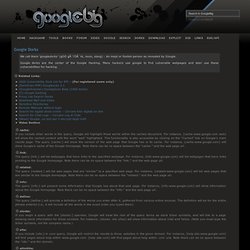 For instance, [cache:www.google.com web] will show the cached content with the word "web" highlighted. This functionality is also accessible by clicking on the "Cached" link on Google's main results page. The query [cache:] will show the version of the web page that Google has in its cache. For instance, [cache:www.google.com] will show Google's cache of the Google homepage.
---