Asie
IFEAC | Institut Français d'Etudes sur l'Asie Centrale. Cahiers d''Asie centrale. Ifeac (ifeac) sur Twitter. MFJ Tokyo. Ebisu Persee. MFJ Tokyo BF (MFJTokyoBF) sur Twitter. 日仏会館フランス事務所 (mfjbf_ja) sur Twitter. IRASEC Bangkok. Facebook. DAFA Kaboul. IFP Pondichéry. Latest news Professor Navalpakkam Ramanuja Tatacharya, professor and associated researcher at the French Institute of Pondicherry, is a leading authority in the fields of shastras (sciences) that are the Nyaya, the Vyakarana, the Mimamsa and the Vedanta.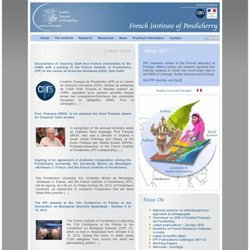 In recognition of his scholarly achievements, he (...) Dr. Kamala Marius, PhD, HDR (Habilitation à diriger des recherches i.e. IFPINDIA :: halshs. Petite histoire Créé à la faveur du Traité de cession des établissements français en Inde, l'Institut Français de Pondichéry (IFP), a été inauguré le 21 mars 1955.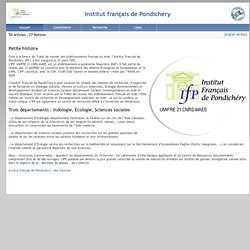 L'IFP, UMIFRE 21 CNRS-MAEE, est un établissement à autonomie financière (EAF). Il fait partie du réseau des 27 UMIFREs en cotutelle avec le Ministère des Affaires Étrangères et Européennes et le CNRS. L'IFP constitue, avec le CSH, l'USR 3330 "Savoirs et Mondes Indiens" créée par l'INSHS en 2009. L'Institut Français de Pondichéry a pour vocation de remplir des missions de recherche, d'expertise et de formation en Indologie (Société, Histoire et Culture Indiennes), Écologie (Environnement et Développement Durable) et Sciences Sociales (Dynamiques Sociales Contemporaines) en Inde et Sud-est Asiatique. CSH New Delhi. CEFC Hong-Kong. China perpectives. Perspectives chinoises. Persectives chinoises. CEFC Twitter.
---