ZION - Illuminati
Putin: '80% of First Soviet Government was Jewish'
Russian president Vladimir Putin has said that Jews made up "80 to 85 percent of the first government of the Soviet Union" following the Bolshevik Revolution of 1917. Putin's speech, made on June 13 2013, was reported by the official Jewish Telegraphic Agency in an article six days later dealing with Putin's visit to the Moscow "Jewish Museum and Tolerance Center." According to the JTA report , Putin said with reference to a library belonging to Rabbi Joseph I. Schneerson, the late leader of the Chabad-Lubavitch movement, that he "thought about something just now: The decision to nationalize this library was made by the first Soviet government, whose composition was 80-85 percent Jewish." According to the official transcription of Putin's speech at the museum, he went on to say that the politicians on the predominantly Jewish Soviet government "were guided by false ideological considerations" and supported the arrest and repression of all faiths."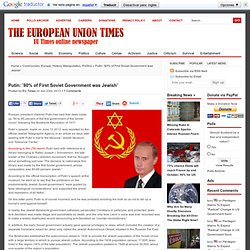 Illuminati History thru -1900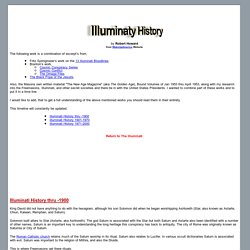 Also, the Masons own written material "The New Age Magazine" (aka The Golden Age ), Bound Volumes of Jan 1953 thru April 1953, along with my research into the Freemasons, Illuminati, and other secret societies and there tie in with the United States Presidents. I wanted to combine part of these works and to put it in a time line. I would like to add, that to get a full understanding of the above mentioned works you should read them in their entirety.
Adam Weishaupt - Secret Lodges
Illuminati: Origins of Secret Government
Perhaps the best example of the continuing legacy of the Sabbatean-Frankist cult, the satanic forebears of the Illuminati. by Henry Makow Ph.D. On May 1, 1989, a "nice Jewish girl", age 29, appeared on the Oprah Show and said her family was part of a Satanic cult that dates back to the 1700's. Although they appear to be upstanding citizens --lawyers, doctors, police officers etc. -- they engage in Satanic ritual human sacrifice, incest and cannibalism, often in synagogues.
Incest Survivor Exposed Illuminati Satanists
A Bavarian Illuminati Primer
The Illuminati Agenda Part 1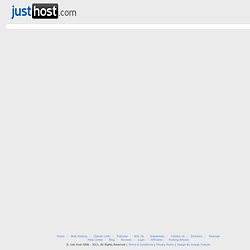 Illuminati History 1773 - Mayer Amschel Rothschild (Banking family) assembles twelve of his most influential friends and convinces them that if they all pool their resources together, they can rule the world. This meeting takes place in Frankfurt, Germany. Rothschild also informs his friends that he has found the perfect candidate, an individual of incredible intellect and ingenuity, to lead the organization he has planned - Adam Weishaupt. May 1, 1776 - Adam Weishaupt (code named Spartacus) establishes a secret society called the Order of the Illuminati.
Illuminati History
2012 ILLUMINATI PLANS FOR BIO WARWARE POPULATION CONTROL
The illuminati's plan for 2012
ILLUMINATI a myth ? Full improved updated Documentary
Pepsi illuminati 2012 Super Bowl Commercial Deep Analysis.wmv
SATAN IS REAL - the proof is here
The Illuminati & the Music Industry & 9/11
Michael Jackson - What happened?
Justin Bieber - Whats wrong?
Whitney Housten - What happened
Zeitgeist Addendum
Zeitgeist: The Movie - 2007 by Peter Joseph
4Z9WVZddH9w (application/x-shockwave-flash Object)
By Johnny Silver Bear | SilverBearCafe.com The "Illuminati" was a name used by a German sect that existed in the 15th century. They practiced the occult, and professed to possess the 'light' that Lucifer had retained when he became Satan. In an attempt to document the origins of an secret organization which has evolved into a mastodonic nightmare, successfully creating and controlling a shadow government that supercedes several national governments, and in whose hands now lay the destiny of the world, one must carefully retrace its history. The lengths to which this organization has gone to create the political machinery, and influence public sentiment to the degree necessary to propel its self-perpetuating prophecy, are, quite frankly, mind boggling. Yet the facts provide for the undeniable truth of its existence.
The Illuminati and the House of Rothschild