Goal - Bankster wealth grab
Why Do You Pay The Kosher Tax /Mark of the Beast
Working Dollars (1957)
Planned Global Economic Collapse
DAVID ICKE -THE CORRUPT MONEY & BANKING SYSTEM - ENSLAVING HUMANITY
British Bank Merger list
After The Banksters Steal Money From Bank Accounts In Cyprus They Will Start Doing It EVERYWHERE If The Banksters Will Steal Money From Bank Accounts In Cyprus Then They Will Do It ANYWHERE – The Economic Collapse
As the growing economic crisis continues to wreak havoc throughout the European Union, the armed forces of tiny Switzerland are preparing to deal with a potential EU disaster that could see refugees flood across the borders amid widespread unrest and chaos. Top Swiss officials have warned that if escalating turmoil were to spill across the border, Switzerland, which is not a member of the EU, will be ready to tackle it. Among the now widely cited preparations was a two-week military training exercise conducted in mid-September dubbed " Stabilo Due ." The drill, which saw thousands of Swiss troops, including air force and special operations forces, deployed throughout the Alpine nation, was aimed at ensuring military readiness to deal with growing EU instability and surging violence in several European countries.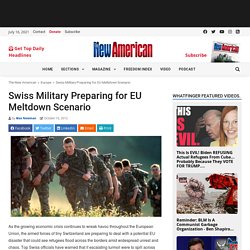 Swiss Military Preparing for EU Meltdown Scenario
Farage: EU wants to steal money from Cypriots bank accounts
New World Order - EU, Bilderberg & CFR
The European Union & Soviet Union similarities - 2013
Is the financial rape of Cyprus another IMF riot waiting to happen? Paul Joseph Watson Infowars.com March 18, 2013 News that the International Monetary Fund initially demanded to loot a shocking 40% of savings from the private bank accounts of Cypriots underscores how residents of the Mediterranean country could be the latest victims of the infamous "IMF riot," as the chief economist of the German Commerzbank calls for Italians to be similarly plundered for 15% of their savings. Image: YouTube The government of Cyprus is set to vote tomorrow on enforcing a "tax," which in reality is nothing less than a confiscation of private wealth, that would hit savers with between 100,000 to 500,000 euros with a levy of 9.9%. Those with over half a million euros will face an even higher rate of 15%.
» Banking Chief Calls For 15% Looting of Italians' Savings Alex Jones