False Flag - 9/11 TwinTowers
9/11 Incontrovertible Proof the Government is Lying
911GATE: Drone Aircraft Mega Proof
911 EXPOSED Demolition Mysteries Part 1 Physical Proof of 911 FRAUD
Six months before the 9/11 attacks the World Trade Center was "privatized" by being leased to a private sector developer. The lease was purchased by the Silverstein Group for $3.2 billion. "This is a dream come true," Larry Silverstein said. "We will be in control of a prized asset, and we will seek to develop its potential, raising it to new heights." But the World Trade Towers were not the real estate plum we are led to believe. How could Silverstein Group have been ignorant of this?
Silverstein Makes a Huge Profit off of the 9/11 Attacks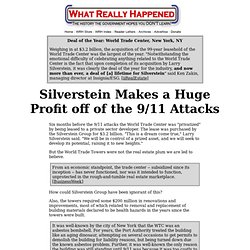 BBC iPlayer - The Conspiracy Files: 9/11 Ten Years On
Why is it so easy for political leaders in the US to convince ordinary citizens to support war? How is it that, after that initial enthusiasm has given away to fatigue and disgust, the reaction is mere disinterest rather than righteous rage? Even when the reasons given for taking the US to war were proven to have been not only wrong, but brazenly fraudulent – as in Iraq, which hadn't possessed chemical weapons since 1991 – no one is called to account.
Censorship Of War Casualties In The US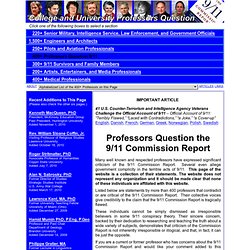 "We are told that WTC buildings 1,2 and 7 "collapsed" due to jet plane impact and fire, that the Bush administration could not "imagine" such a scenario, and that it is only a "coincidence" that plans were already underway long before 9-11 for the invasions of Afghanistan and Iraq. The evidence against this official account of 9-11 is overwhelming. - The US government, through the Bush White House and its agents, NIST, FEMA, and the 911 Commission, lied to the American people, repeatedly, about the circumstances surrounding, and events of, 9-11. - The 911 attacks enacted the nightmare articulated in Section V of the 1997 neo-con PNAC report Rebuilding America's Defenses : "Further, the process of transformation, even if it brings revolutionary change, is likely to be a long one, absent some catastrophic and catalyzing event ––like a new Pearl Harbor" (my emphasis).
Patriots Question 9/11 - Responsible Criticism of the 9/11 Commission Report
Republic Broadcasting Network
Patriots Question 9/11 - Responsible Criticism of the 9/11 Commission Report
911 Loose Change (full-length)
Journal of 9/11 Studies
Lyndon LaRouche interviewed during September 11 2001 part 1
The most dangerous 911 video ever! For more info check out TubeTruthers.tv
9/11 Inside Job: Ten Years Later
The 9/11 Files 911 In Plane Site
911 & the British Broadcasting Conspiracy
Ventura talks 9/11, makes Fox idiot leave stage
Jesse Ventura on Piers Morgan Tonight • CNN • April 4th, 2011
Jesse Ventura Explains Why WTC7 Is The Key To 9/11 Being An Inside Job!
Jesse Ventura - Off Mic on 9/11 Conspiracy!
Jesse Ventura Explains What A September 11TH Conspiracy Is To Larry King
They Never Intended A Serious Investigation Of 9/11! Jesse Ventura
Former Governor Jesse Ventura Picks Fight With Feds Over 9/11 (04.04.11)
9/11 Absolute Evidence Of Massive Explosions in Basement of WTC Long Before Collapse MUST SEE!!!!!!
9/11 Evidence of Bomb's in Basement of Wtc by Witnesses
9/11 Explosions Inside WTC before collapse Must See Original Footage!!
By Bob Tuskin June 14th, 2011 Yet there has been no follow-through on their commitment to justice.
FBI: 9/11 controlled demolition theory is, "backed by thorough research and analysis"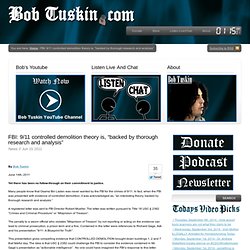 Barry Jennings - 9/11 Early Afternoon ABC7 Interview
People with demolition expertise questioning 9/11
Introduction The scientific paper Active Thermitic Material Discovered in Dust from the 9/11 World Trade Center Catastrophe conclusively shows the presence of unignited aluminothermic explosives in dust samples from the Twin Towers, whose chemical signature matches previously documented aluminothermic residues found in the same dust samples. The present review of the paper and related research is intended to summarize those findings for the non-technical reader. To that end, I first provide a short introduction to the subject of aluminothermic explosives, then outline the methods and results of analysis of the dust samples, and finally explore the significance of these findings. Contents
Explosive Residues: Energetic Materials and the World Trade Center Destruction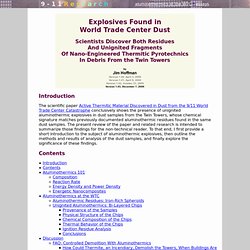 9/11 witness lobby explosion (bombs)
9/11 Summary
Political Leaders for 911 Truth
Religious Leaders for 9/11 Truth
Medical Professionals for 9/11 Truth
Scholars for 9/11 Truth & Justice
Petition Signer Supporters of AE911Truth.org
Scientists for 9/11 Truth
Journalists & Other Media Professionals for 9/11 Truth
Thank you for your interest in discovering and reporting the truth. We are a non-partisan organization whose goals are to inspire, organize and unite media professionals to first uncover and then report on what really happened on September 11, 2001. These efforts, along with those of other professional organizations, will ultimately lead to the convening of a real investigatory body where seeking the truth will be the guiding principle, not political expediency.