History
Get flash to fully experience Pearltrees
Anonymous has caught the attention of the media--and even Homeland Security--with its biggest contribution to Occupy Wall Street: hype. But, so far, the amorphous, leaderless hacktivist movement has disappointed anyone expecting full-on revolution from a Guy Fawkes-masked army or a massive cyber attack.
The police officer videoed spraying what appears to be pepper spray into the eyes of peaceful protesters in New York City on Saturday has found Internet fame as online activists target him in traditional hacker fashion: By releasing all his personal and professional data online in an attack known as a dox. The last few months have seen the online activism of Anonymous moving into the real world with direct actions like the Op-BART demonstrations in San Francisco and the ongoing Occupy Wall Street protest in New York.
A year ago, few people had heard of Anonymous, understood what a DDoS attack was, or even realized that hackers were capable of bringing down entire networks. But as geek bloggers love to point out, 2011 was the year of the hack, the year that Anonymous became a household name and armies of its devotees took to the streets, all wearing Guy Fawkes masks like that final, mind-blowing, Parliament-exploding scene in V Is for Vendetta . Anonymous, of course, has been around a lot longer than a year -- the collective can trace its roots back to the early days of 4chan, nearly a decade ago -- but you'd be hard-pressed to find anyone who would disagree that this year was the hacktivists' watershed moment.
When LulzSec bragged way back in June that it had broken into Sony's servers and released the personal information -- including passwords, email addresses, home addresses and birthdays -- of a million users, smart readers took it with a grain of salt.
The troubles caused by the April 20 hack into Sony's PlayStation Network seemed like they would never end. The company handled things awkwardly from the start, shutting off the network when it realized it had been hacked, but not making the breach public until April 22.
Six months ago, the Anonymous and LulzSec hacktivists looked untouchable, but now they're dropping like flies. Fox News reports :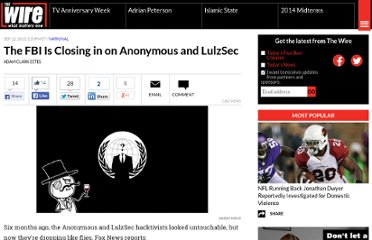 HBGary Federal CEO Aaron Bar has resigned, doubtless cheering members of the elusive "hacktivist" group Anonymous who have targeted him in the past month. The hacker group gained wide attention last year with its large-scale attack on e-commerce companies that severed ties with WikiLeaks. In February, the group turned its attention to Barr after he told the Financial Times his plans to reveal the identities of its leaders.
Thousands of Tunisians have taken to the streets in recent weeks to call for extensive economic and social change in their country.
Operation Tunisia refers to the actions by internet group Anonymous during the Tunisian revolution .