Feb 2012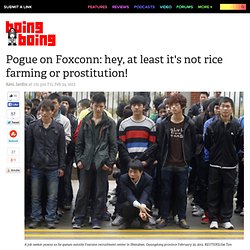 Pogue on Foxconn: hey, at least it's not rice farming or prostitution!
A job seeker yawns as he queues outside Foxconn recruitment center in Shenzhen, Guangdong province February 22, 2012. REUTERS/Joe Tan New York Times tech columnist David Pogue sure has an interesting take on the Foxconn/worker's rights debacle. One point I agree with: it's a mistake to focus solely on Apple. Many, many Western technology companies work with Foxconn, and with factories where conditions are worse.
M. Silverberg/TRAFFIC Southeast Asia, via Associated PressA caged cub at a bear bile farm in Hanoi, Vietnam. FacebookTwitterGoogle+SaveEmailSharePrint HONG KONG — Walk into a barn lined with cramped bear cages and you hear two kinds of sounds from the animals — either a high-pitched whimper or a deep, raging snarl. It's a distasteful experience, and saddening, watching a keeper stab anesthesia into a thrashing bear, then locate the groggy animal's gall bladder with a small sonogram machine and withdraw a fat hypodermic's worth of bile. It's not for the squeamish.
Finally, Outrage in China Against Bear Farming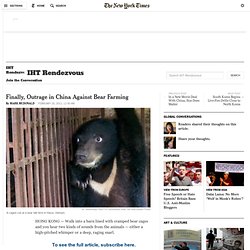 Apple investigates 'sweat shop' factories following suicide threat
China shuts down around 1,000 factories over toxic glue - The Times of India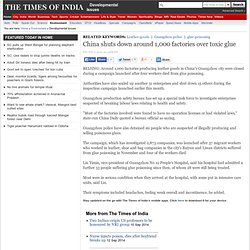 PTI Feb 17, 2012, 02.31PM IST BEIJING: Around 1,000 factories producing leather goods in China's Guangzhou city were closed during a campaign launched after four workers died from glue poisoning. Authorities have also sealed up another 31 enterprises and shut down 15 others during the inspection campaign launched earlier this month. Guangzhou production safety bureau has set up a special task force to investigate enterprises suspected of breaking labour laws relating to health and safety.
Tap for Slideshow Photographer: Qilai Shen/Bloomberg Shoppers look at gold jewelry and ornaments at a gold and silver shop in Shanghai during the Lunar New Year holiday period.
China's Low New Year Sales Ripple Across Asia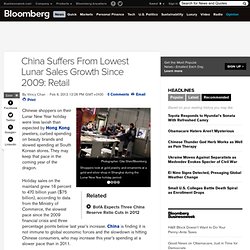 If there is one issue on which the rival candidates for the U.S. presidency agree, it's that America's global leadership will endure. Mitt Romney insists it is not a "post-American century," while Barack Obama declared in his State of the Union address that "anyone who tells you otherwise, anyone who tells you that America is in decline or that our influence has waned, doesn't know what they're talking about." They must enjoy this kind of chest-beating in Beijing.
We're All State Capitalists Now - By Niall Ferguson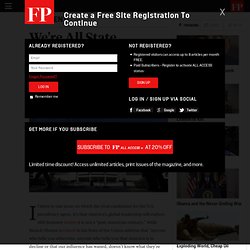 Robert Kagan on Why the World Needs America
Gold Confirms Investments In China Will Eventually Be Worthless
Disclosure: I have no positions in any stocks mentioned, and no plans to initiate any positions within the next 72 hours. There is reason to believe investments in China will eventually be worthless for firms such as PetroChina (PTR) and China Life (LFC) and that the supply chains of companies sourcing in China such as Apple (AAPL) and Walmart (WMT) will eventually be broken. The question now is how soon? (There is an entire December 26 Seeking Alpha article "Why Investments in China Will Eventually Be Worthless" explaining why this will occur.) Presently there is an implicit social contract between the Chinese people and their ostensibly communist government: the people don't challenge the government and, in exchange, get a degree of economic freedom and access to better paying jobs. In essence, the political leadership provides stability and mostly low-wage job opportunities and, in exchange, gets to remain in control while its officials and their cronies get rich.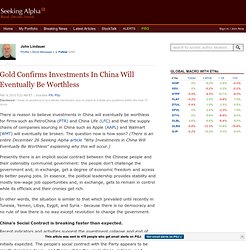 China Reduces Holdings of U.S. Treasuries to Lowest Level Since June 2010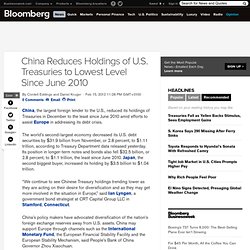 China, the largest foreign lender to the U.S., reduced its holdings of Treasuries in December to the least since June 2010 amid efforts to assist Europe in addressing its debt crisis. The world's second-largest economy decreased its U.S. debt securities by $31.9 billion from November, or 2.8 percent, to $1.11 trillion, according to Treasury Department data released yesterday. Its position in longer-term notes and bonds also fell $32.5 billion, or 2.8 percent, to $1.1 trillion, the least since June 2010.