Feb 2012
Pogue on Foxconn: hey, at least it's not rice farming or prostitution! A job seeker yawns as he queues outside Foxconn recruitment center in Shenzhen, Guangdong province February 22, 2012.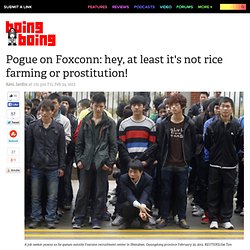 REUTERS/Joe Tan New York Times tech columnist David Pogue sure has an interesting take on the Foxconn/worker's rights debacle. One point I agree with: it's a mistake to focus solely on Apple. Many, many Western technology companies work with Foxconn, and with factories where conditions are worse. Finally, Outrage in China Against Bear Farming. M.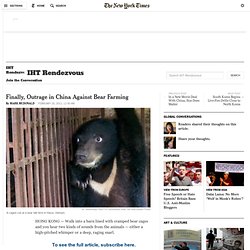 Silverberg/TRAFFIC Southeast Asia, via Associated PressA caged cub at a bear bile farm in Hanoi, Vietnam. HONG KONG — Walk into a barn lined with cramped bear cages and you hear two kinds of sounds from the animals — either a high-pitched whimper or a deep, raging snarl. It's a distasteful experience, and saddening, watching a keeper stab anesthesia into a thrashing bear, then locate the groggy animal's gall bladder with a small sonogram machine and withdraw a fat hypodermic's worth of bile. It's not for the squeamish. The practice is gruesome enough that hundreds of thousands of Chinese have attacked the pharmaceutical company Guizhentang with online complaints over the firm's plans to triple the size of its bear-bile farms through a public offering of shares on the Shenzhen stock exchange. Apple investigates 'sweat shop' factories following suicide threat.
The technology giant, which has faced criticism over working conditions at some of its suppliers' plants in China, said today that it had asked the Fair Labor Association (FLA) to conduct "special voluntary audits" of several facilities, including factories owned by Foxconn, the world's largest electronics manufacturer, in Shenzen and Chengdu.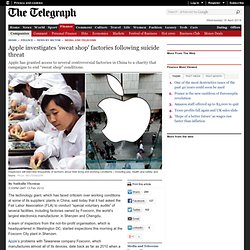 Apple's problems with Taiwanese company Foxconn, which manufactures almost all of its devices, date back as far as 2010 when a string of workers committed suicide at a plant in Longhua, which employed between 300,000 and 400,000 workers. Apple chief executive, Tim Cook, said in a statement today: "We believe that workers everywhere have the right to a safe and fair work environment, which is why we've asked the FLA to independently assess the performance of our largest suppliers. China shuts down around 1,000 factories over toxic glue. China's Low New Year Sales Ripple Across Asia. Chinese shoppers on their Lunar New Year holiday were less lavish than expected by Hong Kong jewelers, curbed spending on beauty brands and slowed spending at South Korean stores.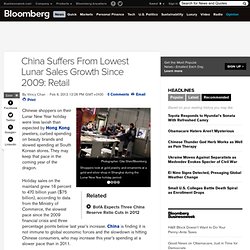 They may keep that pace in the coming year of the dragon. Holiday sales on the mainland grew 16 percent to 470 billion yuan ($75 billion), according to data from the Ministry of Commerce, the slowest pace since the 2009 financial crisis and three percentage points below last year's increase. We're All State Capitalists Now - By Niall Ferguson. If there is one issue on which the rival candidates for the U.S. presidency agree, it's that America's global leadership will endure. Mitt Romney insists it is not a "post-American century," while Barack Obama declared in his State of the Union address that "anyone who tells you otherwise, anyone who tells you that America is in decline or that our influence has waned, doesn't know what they're talking about. " They must enjoy this kind of chest-beating in Beijing. That a resurgent China poses a challenge to American power -- especially in the Asia-Pacific region -- has been clear for some time to those who know what they're talking about. The real question is whether the United States has a credible response. Should it apply some version of the "containment theory" that the late George Kennan recommended for dealing with the Soviet challenge after 1945? Robert Kagan on Why the World Needs America. Gold Confirms Investments In China Will Eventually Be Worthless. There is reason to believe investments in China will eventually be worthless for firms such as PetroChina (PTR) and China Life (LFC) and that the supply chains of companies sourcing in China such as Apple (AAPL) and Walmart (WMT) will eventually be broken.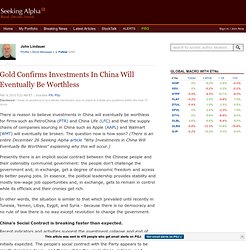 The question now is how soon? (There is an entire December 26 Seeking Alpha article "Why Investments in China Will Eventually Be Worthless" explaining why this will occur.) Presently there is an implicit social contract between the Chinese people and their ostensibly communist government: the people don't challenge the government and, in exchange, get a degree of economic freedom and access to better paying jobs. In essence, the political leadership provides stability and mostly low-wage job opportunities and, in exchange, gets to remain in control while its officials and their cronies get rich. China Reduces Holdings of U.S. Treasuries to Lowest Level Since June 2010. China, the largest foreign lender to the U.S., reduced its holdings of Treasuries in December to the least since June 2010 amid efforts to assist Europe in addressing its debt crisis.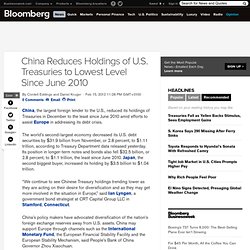 The world's second-largest economy decreased its U.S. debt securities by $31.9 billion from November, or 2.8 percent, to $1.11 trillion, according to Treasury Department data released yesterday. Its position in longer-term notes and bonds also fell $32.5 billion, or 2.8 percent, to $1.1 trillion, the least since June 2010.
---