Feb 2012
Rick Mercer: Rant: Be Afraid
Millennium Ark: Hot News
February 17, 2012 © Holly Deyo standeyo.com In light of repeated privacy invasions from Google, many of you have asked for direction. What do I replace Google and other major search engines with?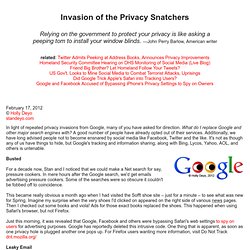 The piracy, counterfeit and copyright battle has moved to the Super Bowl. Speaking a National Football League press conference ahead of this weekend's Super Bowl the US Immigration and Customs Enforcement agency said special agents this week seized a total of 307 websites and snatched up 42,692 items of phony Super Bowl-related memorabilia along with other counterfeit items for a total take of more than $4.8 million - up from $3.72 million last year. Sixteen of the sites the agency shut down during this operation known as Fake Sweep, were illegally streaming live sporting telecasts over the Internet, including NFL games. Two hundred ninety-one website domain names were illegally selling and distributing counterfeit merchandise, ICE stated. More on high-tech crime: From Anonymous to Hackerazzi: The year in security mischief-making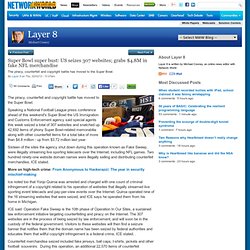 Layer 8: Super Bowl super bust: US seizes 307 websites; grabs $4.8M in fake NFL merchandise
Website accused of defamation is closed by judge - Courts, National News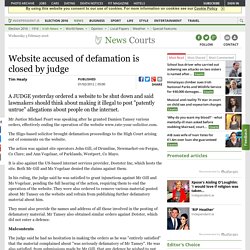 A JUDGE yesterday ordered a website to be shut down and said lawmakers should think about making it illegal to post "patently untrue" allegations about people on the internet. Mr Justice Michael Peart was speaking after he granted Damien Tansey various orders, effectively ending the operation of the website www.rate-your-solicitor.com. The Sligo-based solicitor brought defamation proceedings to the High Court arising out of comments on the website. The action was against site operators John Gill, of Drumline, Newmarket-on-Fergus, Co Clare; and Ann Vogelaar, of Parklands, Westport, Co Mayo.
Downloading Empowerment: Application Gives Citizens Control Over Crime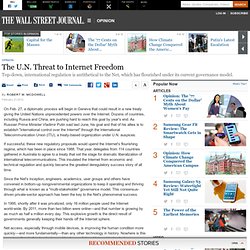 Robert McDowell: The U.N. Threat to Internet Freedom
On Feb. 27, a diplomatic process will begin in Geneva that could result in a new treaty giving the United Nations unprecedented powers over the Internet. Dozens of countries, including Russia and China, are pushing hard to reach this goal by year's end. As Russian Prime Minister Vladimir Putin said last June, his goal and that of his allies is to establish "international control over the Internet" through the International Telecommunication Union (ITU), a treaty-based organization under U.N. auspices.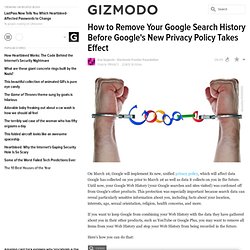 but if my web history is off, doesnt that mean that there's nothing to be deleted when i turn it on? I'm not sure, but I'm assuming that if it was previously on, then turned off, the history isn't actually deleted. So, clearing it seems like a wise precaution. ok, so just for everyone's info.
How to Remove Your Google Search History Before Google's New Privacy Policy Takes Effect