Professeur GEO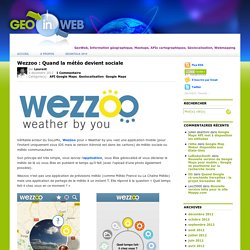 Wezzoo : Quand la météo devient sociale Véritable acteur du SoLoMo, Wezzoo pour « Weather by you »est une application mobile (pour l'instant uniquement sous iOS mais la version Adnroid est dans les cartons) de météo sociale ou météo communautaire. Son principe est très simple, vous lancez l'application, vous êtes géolocalisé et vous déclarez la météo de là où vous êtes en publiant le temps qu'il fait (avec l'upload d'une photo également possible). Wezzoo n'est pas une application de prévisions météo (comme Météo France ou La Chaîne Météo) mais une application de partage de la météo à un instant T. Elle répond à la question « Quel temps fait-il chez vous en ce moment ? »
Maps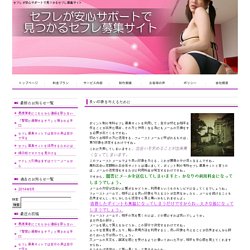 Nouvelles zones d'exploration = nouveaux défis. Cette année nous changeons la zone d'exploration pour de nouvelles opportunités ! « GEOKARST Aventure » organise au mois de MARS 2012, une expédition d'exploration spéléologique au Vietnam. La zone d'exploration se situe sur la province de Cao Bang au Nord du Vietnam sur l'un des karsts les plus vastes d'Asie du Sud Est.
expedition speleologique plongée souterraine laos karstologie bi
Googie - Your Lifestyle Search
10 of the World's Most Dangerous Roads - Google Earth Community
10 of the World's Most Dangerous Roads The Death Road (Bolivia)The North Yungas Road, also known as The Death Road, is a 61 to 69 km road leading from La Paz to Coroico (Bolivia's capital, to the Amazon region) in the Yungas region of Bolivia. It is legendary for its extreme danger: in 1995 the Inter-American Development Bank christened it as the "world's most dangerous road. " One estimate is that 200-300 travelers were killed yearly along the road.
Our international team of contributing aerial photographers is constantly adding new images to our comprehensive stock photo library. Our library of high-quality images contains over 31,100 aerial stock photos with straightforward, fixed-price licenses. Our aerial images are employed to highlight the very best features of residential and commercial properties, show the progress and status of construction projects and provide the highest quality aerial images of homes, infrastructure and an ever increasing number of locations. Where to from here?
Aerial Photography: Airview Image & Stock Photo Service: Austral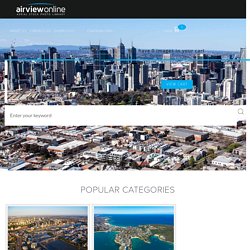 Map Reading - Orienteering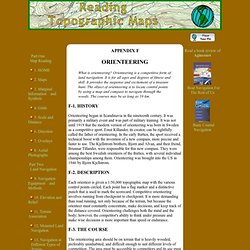 What is orienteering? Orienteering is a competitive form of land navigation. It is for all ages and degrees of fitness and skill.
Saveurs safran, un voyage dans la cuisine marocaine - Flock
Un circuit au départ de Marrakech (9 jours). Quand ? Départ le 27 octobre 2012. Prix : 1220 euros / pers. Prix pour des groupes à partir de 4 personnes en chambre double.