Enterpreneurial-Pearls
Openbravo : web-based, agile ERP (Enterprise Resource Planning) solution for SMB. Openbravo, the agile erp. Happiest Minds - IT Services Company | Happiest People. Happiest Customers. IT Project Failures. The Credit Card Is The New App Platform. 8. Merry Maids - J.J. Colao.
Intro - J.J. Colao. 4 To-Dos for the "Someday" Entrepreneur. Google, Microsoft said to be creating new cloud services | Internet & Media. Google and Microsoft are reportedly neck and neck to get an Infrastructure as a Service cloud computing offering off the ground in the near future.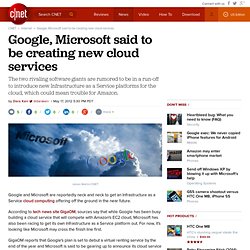 According to tech news site GigaOM, sources say that while Google has been busy building a cloud service that will compete with Amazon's EC2 cloud, Microsoft has also been racing to get its own Infrastructure as a Service platform out. For now, it's looking like Microsoft may cross the finish line first. Zipdial.
---